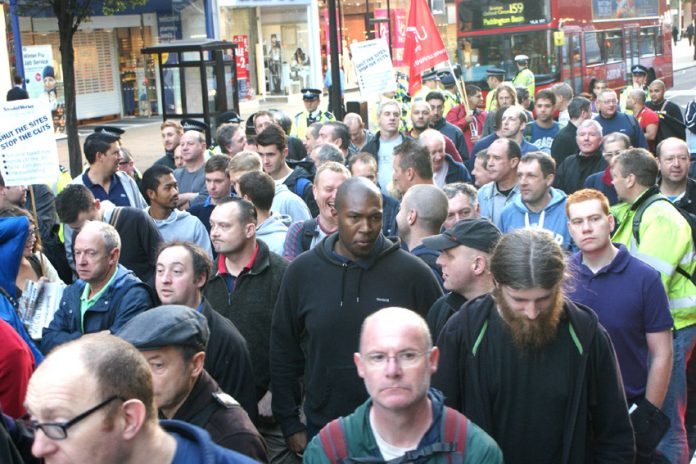 HUNDREDS of electricians blockaded Oxford Street in central London yesterday morning, against the major attack by a 'cartel' of contractors who have declared they intend to tear up the JIB (Joint Industry Board) national agreement from 7th December and slash pay by 35%.
'Call a strike ballot now,' angry sparks shouted at some of the Unite officers as they spoke on the megaphone, 'stop dragging your heels!'
The demonstrators defied warnings from the Metropolitan Police that if they didn't clear the road they would be arrested and they continued with the rally.
Speakers condemned the rogue employers who have declared they intend to pull out of the JIB – Bailey Building Services, Balfour Beatty Engineering Services, Tommy Clarke, Crown House Technologies, Gratte Brothers, MJN Colston, SES and SPIE Matthew Hall.
Jim Kelly, Unite London Regional Committee, said: 'We have to fight against Balfour Beatty, Tommy Clarke and the other employers.
'This is part of a much bigger fight, involving public sector workers and private sector workers.'
Steve Jones of Unite said: 'We're not taking this 35 per cent wage cut. The ballot seems to be coming but very slowly.'
London Region Unite officer Harry Cowap said: 'We will not lie down and have our belly tickled. We want to bring thousands out. We'll be at the Tate Modern next week.
Richard Alday, of Unite said: 'What you started here in London seven weeks ago is going viral. It's not just in the building industry.
'Now the Tories are telling everyone they are going to have to pay £200 to apply to an employment Tribunal and pay £1,000 to have their case heard.'
Phil Wallace, GMB, said: 'This is the fight of your life. If you don't win this every boss in every industry will follow suit. You've got to get people out.'
Mick Dooley, Ucatt General Secretary candidate, speaking on the megaphone as the police began pushing the demonstrators off the road, said: 'It seems we are being kettled, at our age!'
He continued: 'We are being too slow, we have to stop production on the building sites.'
Unite member Mark Peaty told News Line: 'The ballot must be held now. What they are doing will not just ruin our trade, but every trade in the country. It will affect everyone, unless we take a stand now, everything will fall down.'