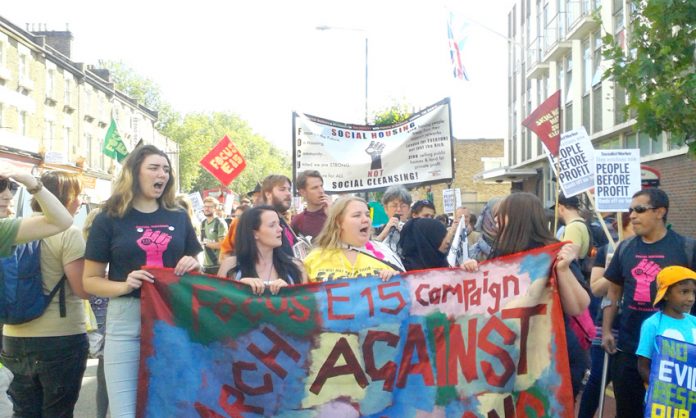 One in three councils in England has not replaced a single home sold through the Right to Buy scheme since 2012, according to the charity Shelter.
It said that only 8% of councils had built enough to replace half of their stock sold through the scheme, which allows council tenants to buy their homes. The charity warned yesterday that there is a danger of some areas having no affordable homes and becoming 'black spots' for families on a normal income.
In this year's Queen's Speech the government announced the 'Right to Buy' was being extended to 1.3m housing association tenants in England. Shelter said yesterday that just two of the 166 councils in England listed as selling properties through Right to Buy has succeeded in replacing 100% of the properties sold.
Under existing policy, the Tory government has promised that each home sold after 2012 would be replaced. But the charity's chief executive Campbell Robb warned the problem of not enough council homes being replaced is getting worse, leaving some areas with no affordable homes. 'At this rate there will soon be black-spots across the country where no-one on a normal income can afford to live,' he said.
The Local Government Association (LGA), which represents councils in England and Wales, said many council housing programmes were hampered by complex rules and restrictions on the use of receipts from sales of homes. LGA housing spokesman Peter Box said: 'It is imperative that councils are given the powers to replace housing sold through Right to Buy quickly and effectively as part of the Spending Review.
'Councils need to be able to retain 100% of receipts from sales while Right to Buy discounts should be set locally so they reflect the cost of houses in the area.' The government said nearly 40,000 new 'homeowners' had been created since it increased discounts for council tenants in 2012.
A government spokesman claimed: 'Councils are continuing to fulfil the requirement to deliver one for one replacements within three years, and over 3,000 replacement homes have already been delivered across England.
'We have been absolutely clear that if councils do not deliver one for one replacements for the additional homes sold under Right to Buy the government will.'
However, this claim is directly contradicted by Shelter's statistics.
• On Saturday 1,000 people marched through Stratford Broadway demanding decent housing and an end to the decanting and evictions of the residents of the Carpenters Estate. The march was called by the Focus E15 Campaign for decent housing marking its second birthday.
They were joined by many other groups with their banners including Defend Council Housing and Squatters and Homeless Autonomy. The march assembled at Stratford Park with a rally in which many speakers described the intolerable situations they had been forced to live in due to the policies of Newham Council. Mothers and their children are being evicted and removed from their families and local support networks in a social cleansing exercise.
Over 50,000 families have been shipped out of London boroughs over the past three years. The march stopped and demonstrated outside Foxtons and Bridge House, the council's homeless unit. The marchers' slogans included 'social housing is a right' and 'repopulate Carpenters Estate' and they vented much of their anger in songs about Labour mayor Robin Wales robbing the poor to give to the rich.
The march ended at the Carpenters Estate to highlight that perfectly good social housing is boarded up because Newham Council wants to sell off the land to a private developer.