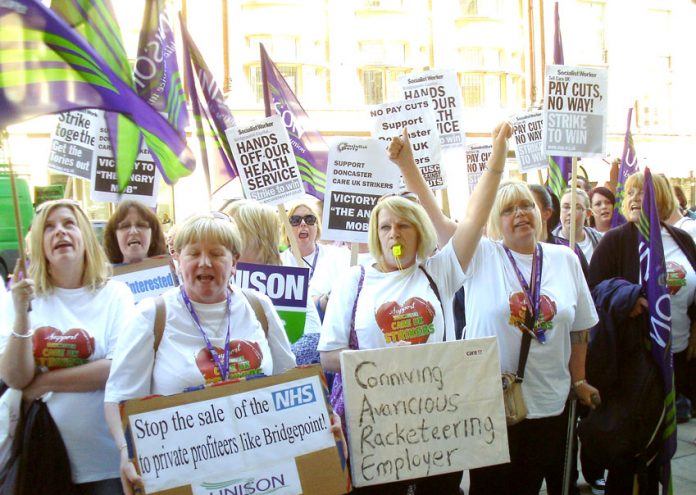 THE TORIES are 'papering over the cracks in social care funding leaving services at breaking point,' the GMB union said yesterday.
The comments come as BBC Panorama programme aired last night revealed that a quarter of the country's 2,500 home care providers were at risk of insolvency, and almost 70 had closed down in the last three months. In total: 95 councils have had home care contracts cancelled by private companies.
Rehana Azam, GMB National Secretary said: 'The government's attempts at papering over the cracks in social care funding have led to the crisis in care we are seeing. The generation that built our society are being let down and repeated failure by ministers to have a grown up discussion about properly funding social care has let down older and vulnerable people, who deserve so much better than this.
'Almost half of those councils who responded to this investigation have been left with cancelled contracts – it's quite clear care homes increasingly haven't got the funds to keep going. Providers want to provide adequate care and pay their staff a decent wage – but they are totally under-resourced and under-funded. The government's neglect is an ugly stain.
'Whilst the Chancellor claims to have made £2 billion available for social care in this month's Budget, there had already been over £4 billion of cuts since 2010 – giving us the grand total of minus £2.5 billion over the last seven years. They should stop trying to pull the wool over our eyes – and tackle this mounting crisis before it worsens.'
Cllr Izzi Seccombe, Chairman of the Local Government Association's Community Wellbeing Board, said: 'We have warned that the combination of the historic under-funding of adult social care, and the significant pressures of an ageing population and the National Living Wage, are pushing the care provider market to the brink of collapse.
'These figures show the enormous strain providers are under, and emphasises the urgent need for a long-term, sustainable solution to the social care funding crisis. There currently remains a shortfall in the projected social care funding gap. There is already an expectation that the money will reduce the immediate pressure on the NHS.
'But it is desperately needed to protect vital support services, like home care, ensuring older people and those with mental health conditions, learning and physical disabilities live dignified and fulfiling lives. The overall funding pressures facing councils will also mean they will need to make further cutbacks to vital services this year, including social care.'