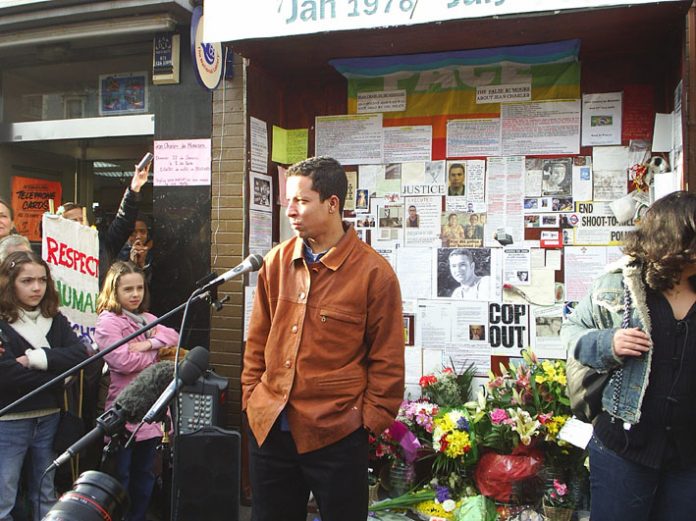 ABDUL Kahar was shot without warning by police, not his brother, during last Friday's 4am raid on his home in Forest Gate, east London, his solicitor insisted yesterday.
Solicitor Kate Roxburgh said press allegations that the 23-year-old was shot by his younger brother were 'absolute nonsense, there's no truth in it at all'.
She added: 'When he was shot he was standing on the stairs, his brother was a couple of stairs up and behind him.
'He was shot through the front, so obviously it was simply impossible it could have been his brother. It wasn't.'
Speaking outside Paddington Green high security police station, where Kahar had been moved from the Royal London Hospital in Whitechapel, Roxburgh said her client also denied press speculation that the house was a 'chemical bomb factory'.
She said: 'He says there's absolutely not a word of truth in any of it. He says the police are not going to find anything because there's nothing to find.'
The solicitor said the fact that nothing has been found for two days 'says it has been a mistake, I don't think there's anything to be found in that house.'
Police have been given an extension to Wednesday to question Kahar and his younger brother Abul Koyair, who has been held at Paddington Green since last Friday.
After visiting his client, solicitor Julian Young said Abul Koyair was 'doing alright' and 'understands the police are doing their job'.
Young went on to give a statement on behalf of Koyair: 'Insofar as there is a suggestion that he is responsible for the shooting of his brother, he says that on Friday morning in the early hours of the morning he heard a noise of some breaking glass.
'He then heard his brother's door being opened and he heard a bang and saw a flash.
'He came down some stairs towards where his brother was to find his brother on the ground and a man with a gun standing nearby.
'He then says that one of the policemen said "get on the floor". Another one came and dragged him to one side and the first policeman then said somebody had been shot and called for an ambulance.
'My client wants me to assure everyone that he is not the person responsible for shooting his brother.'
Referring to the press allegations Young had said earlier: 'I know nothing about that, no evidence has been given to me about that, no disclosures from the police.
'I've spoken to Miss Roxburgh, who is the solicitor acting on behalf of the older brother, and she says that as far she is aware, according to the instructions she's received, it was a police officer who discharged a firearm.'
Roxburgh had said of Kahar on Saturday night: 'He was woken up about four in the morning by screams from downstairs, got out of bed in his pyjamas, obviously unarmed, nothing in his hands and hurried down the stairs.
'As he came toward a bend in the stairway, not knowing what was going on downstairs, the police turned the bend up towards him and shot him – and that was without any warning.'
• The Crown Prosecution Service is considering legal charges against Metropolitan Police commissioner, Sir Ian Blair, Commander Cressida Dick, who oversaw the July 22nd 2005 operation, and Commander John McDowall, who was in charge of intelligence operations, in relation to the fatal shooting of innocent Brazilian Jean Charles de Menezes.
Following a four-month review of a report by the Independent Police Complaints Commission, prosecutors are considering manslaughter charges and/or charges under the Health and Safety at Work Act.