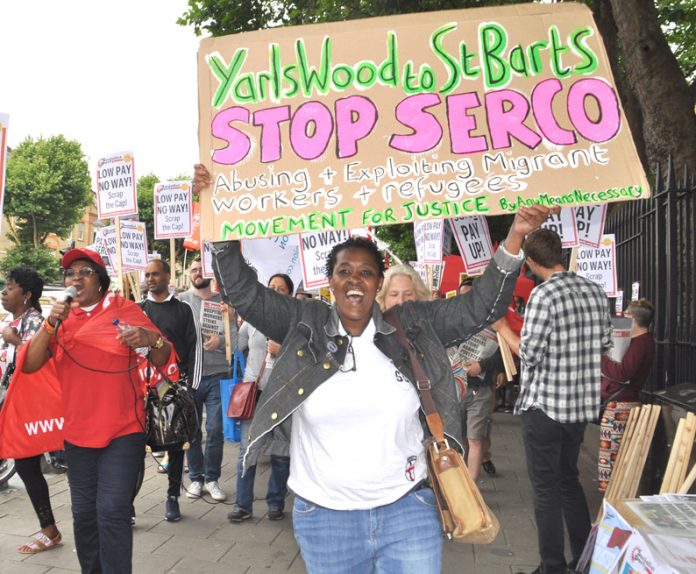 THREE hundred asylum seekers are threatened with eviction by private company Serco. It has already begun to change the locks, throwing them onto the streets of Glasgow. Serco, which houses thousands of asylum seekers in Glasgow, issued the first six 'lock change' notices on Monday, giving residents just seven days' notice to leave the properties.
A letter to Tory Home Secretary Sajid Javid, signed by the Glasgow City Council leader Susan Aitken, cross party councillors and seven Glasgow MPs, states that the eviction of failed asylum seekers by Serco is 'far less likely to lead to their voluntarily leaving the UK than it is to their joining the city's homeless and rough sleeper population. We hereby call on you, as home secretary, to instruct Serco to cease the lock change and eviction programme with immediate effect'.
The Scottish Federation of Housing Associations said: 'We are concerned now that Serco is in danger of putting profit before people, failing to work within the spirit of the law, and letting down vulnerable households in the support and inadequate time they need to make alternative housing arrangements.'
Robina Qureshi of Positive Action in Housing, the homelessness charity for refugees, urged Serco's chief executive Rupert Soames to intervene, saying: 'We are appalled that Serco would carry out these actions against vulnerable refugees who endure interminable Home Office delays with their cases.'
Below is a section of the lock-change letter sent by Serco to police, Glasgow City Council and other agencies, which was mailed last Friday to bodies including NHS Scotland, the Scottish Refugee Council and Migrant Help, it says: ' . . . Historically, the position of Serco has been that lock changes will not be utilised for former asylum seekers who remain insitu following the discontinuation of support . . .
'To date, despite under s.23A asylum dispersal accommodation being categorised as being excluded occupation from compliance with s.23 of the Rent Act 1984 and therefore not requiring legal court action to enforce eviction, Serco have continued to follow the "legal" court route to regain possession of properties. 'This process is significant in length, very costly and simply does not facilitate the move on of such cases at the pace required to effectively meet intake, particularly when Serco do not hold any legal or contractual duty to continue to accommodate former asylum cases who have no legal right of occupation in the UK.'