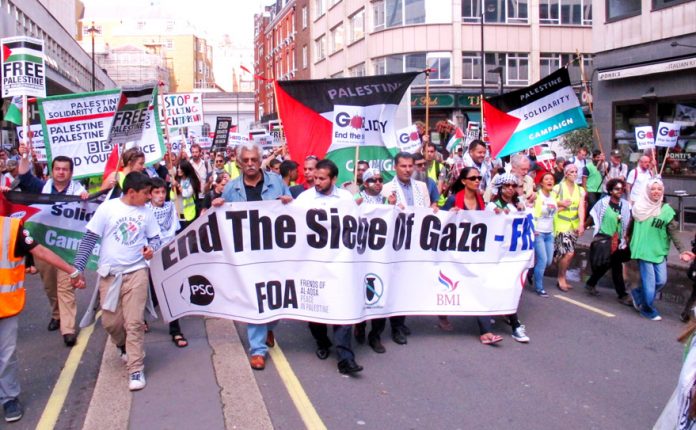 A SECOND Foreign Office Minister, Mark Simmonds, has resigned from the government, 10 Downing Street said yesterday.
His resignation follows that of Foreign Office Minister Baroness Warsi, who quit over the UK's unconditional support for the Israeli massacre of the people of Gaza.
10 Downing Street said yesterday that Simmonds will be replaced as minister with responsibility for Africa by James Duddridge.
The PM's spokeswoman said he had made the decision to step down on August 4 and maintained that it was unrelated to events in Gaza.
However Simmonds has a record. He was missing from the House of Commons when the governent motion that would have allowed military action against Syria was defeated.
Simmonds has written to Cameron saying he has decided not to stand in his Boston and Skegness seat at the general election next year.
No 10 said the PM was told of his decision several weeks ago and that this was unrelated to Philip Hammond's appointment as foreign secretary.
Foreign Office Minister Baroness Warsi had been scathing about Cameron's recent changess in government especially the replacement of Foreign Secretary Hague by Hammond.
Warsi resigned last Tuesday in protest at the government's policy on Gaza, saying that she wanted to 'be able to live with herself'.
Reports continue to suggest that a third Foreign Office Minister, Hugo Squires, is considering resignation over the Gaza issue.
Easington's Labour MP, Grahame Morris has meanwhile signed a petition along with 18,000 others to demand that the UK Government deploy the RFA Argus hospital ship to Gaza to assist with the the humanitarian crisis.
Morris said: 'Watching the events unfold in Gaza this last month, it is impossible not to be horrified.
'We are witnessing a massacre. Without regard for international law or human life, a powerful occupying nation is unleashing their full military might against the civilian population whom they occupy.
'Israel's killing and maiming thousands of Palestinians and targeting of civil infrastructure, hospitals, UN shelters, schools and homes is morally unjustifiable and amount to war crimes.
'Gaza has already suffered an illegal, seven-year-long blockade that Israel administers to permit bare survival but nothing more and this latest assault has left it on the precipice of a humanitarian catastrophe.
'Israel continues to bombard Gaza and restrict the flow of essential medical supplies and humanitarian relief.
'Doctors are operating on floors, people are dying without treatment and there are severe shortages of staff and resources.
'With nobody allowed in our out of Gaza, the situation has become intolerable and something must be done by the UK government.
'The Prime Minister"s silence and inaction has been shameful and the UK government cannot continue to stand by and do nothing.
'I call on the Prime Minister as a matter of urgency to use the hospital ship RFA Argus, moored in Falmouth, to spearhead a humanitarian relief effort for the people of Gaza.
'She is uniquely designed for this type of necessity and the British government must unilaterally and rapidly deploys RFA Argus to Gaza.'
The recent conflict has seen Israeli forces repeatedly target civilian infrastructure destroying hospitals, schools, power plants, homes and United Nations facilities housing refugees.
Nearly 1,900 Palestinians have been killed and almost 10,000 injured, around 80% civilians.
450,000 people have been displaced and Israel's attacks have left most of the population without power or water and lacking the basic medical supplies needed to treat huge numbers of ill or injured, plunging 1.8m Palestinians towards a humanitarian catastrophe.