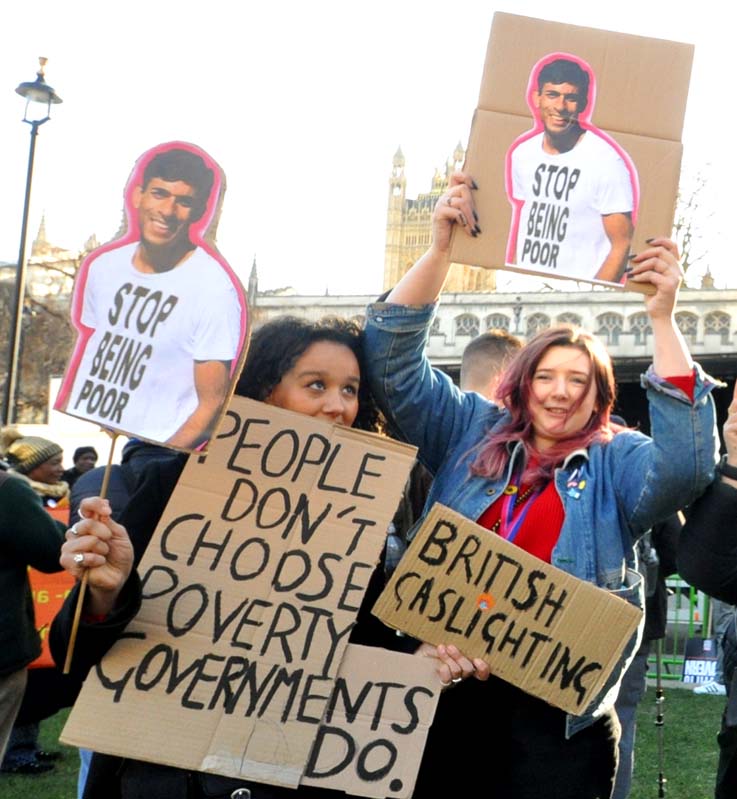 'THE ACTIONS we have taken to sanction Putin's regime are not cost free for us at home,' Tory Chancellor Rishi Sunak said yesterday, outlining the Tory economic plan in his Spring Statement.
Sunak indicated that the UK working class will have to pay for the ruling class' war against Russia. He said: 'The invasion of the Ukraine restricts our recovery as it does the countries around the world.'
He admitted that the crisis has only just begun, quoting the Office for Budget Responsibility (OBR) as saying: 'There is unusually high uncertainty around the outlook.'
Sunak said: 'It is too early to know the full impact of the Ukraine war on the UK economy, but their initial view, combined with high global inflation and continuing global pressures, means the OBR now forecasts growth this year of 3.8%. The OBR then expects the economy to grow by 1.8% in 2023 and 2.1%, 1.8% and 1.7% in the following three years.'
He warned: 'The war's most significant impact domestically is on the cost of living. Covid and global factors meant that goods and energy prices were already high. Statistics published this morning showed that inflation in February was 6.2%.'
He said that the OBR expects that inflation will 'rise further to 7.4% this year.'
Sunak then laid out new measures he was introducing.
He announced the 'first cut to the basic rate of income tax in 16 years' – from 20% to 19% – by the end of Parliament in 2024.
Fuel duty has been cut by 5p a litre from 6pm last night until March 2023.
The National Insurance threshold will be raised by £3,000, meaning people must earn £12,570 per year before paying income tax or NI. It's a tax cut for 30 million people worth over £330 a year, says Sunak.
VAT will be scrapped on home energy-saving measures such as insulation, solar panels and heat pumps.
The Household Support Fund for local councils to help the most vulnerable will be doubled to £1bn from April.
Retail hospitality and leisure sectors will have a 50% discount in business rates up to £110,000.
Labour shadow chancellor Rachel Reeves responded that he should have scrapped the planned rise to National Insurance (NI) and put a windfall tax on oil and gas companies.
Reeves made it clear that Labour will support any increase in military spending to beef up Britain's defences.
Reeves said: 'The Chancellor failed to explain today why he chose to sign off a reduction in our armed forces in October. Will the Chancellor confirm whether the government target army's size is still being reduced by 10,000 troops.
'And let me say this to the Chancellor: Labour will support whatever is needed on defence and security to keep our country safe.'
Reeves went on: 'The cost of living crisis has hit working people particularly hard as incomes have been squeezed over the last twelve years of the Conservative government.'
She continued: 'For all his tax rising for millions in the middle, where is the increase in tax contributions for the very wealthiest in society?
'A landlord with a large number of properties will not be paying a penny more in taxes, but their tenants will.
'Who has the Chancellor been helping out?
'Those who have been swindling the tax payer. The Chancellor has left open the vaults for widespread waste, crony contracts and a frenzy of fraud.
'It was as his former Tory Treasury Minister put it, "Happy days if you are a crook".
'Seven billion items of PPE, not usable, and now being burnt – taxpayers' money literally going up in smoke.
'Three and a half billion pounds worth of contracts awarded to friends, donors and public landlords.
'And it gets worse, the Chancellor has been signing cheques to fraudsters.
'Including organised criminals and drug dealers. He has lost a staggering £11.8bn of public money to fraud.'
• See editorial