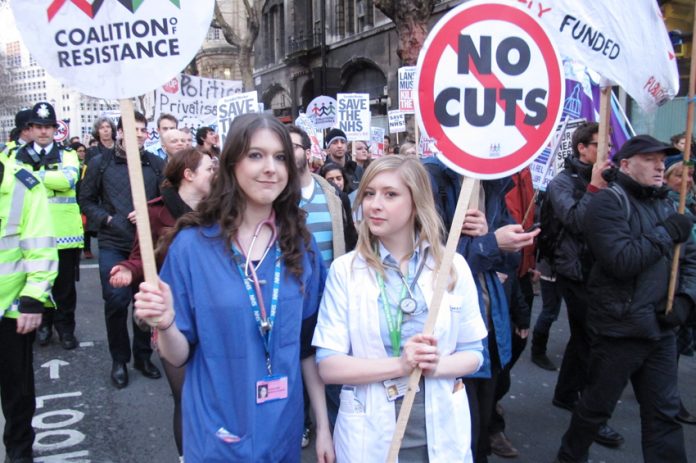 THE Hewletts came straight to the point yesterday over the plan to close Chase Farm hospital.
'We should sack Lansley and the whole government to start with,' the couple told the picket on its 68th day.
They added: 'We come from Waltham Cross which is about fifteen to twenty miles away from Barnet, where we would be expected to go if Chase Farm closes.
'We were both on the first march called to keep Chase Farm hospital open.
'We have always supported your campaign and the policy of occupying the hospital to keep it open.'
On Day 68 of the picket, patients, local residents and staff at Chase Farm hospital stopped at the picket line to give their support for the fight against closure.
Christina Burgess, a local resident and long-time user of the hospital, said: 'I think it is disgusting that they can even talk about closing Chase Farm.
'With my condition it would have been impossible to get to Barnet or North Middlesex.
'They have already closed one hospital in the area and to close another is just a death sentence on people suffering from heart attacks or strokes.
'I think we should fight for all our rights, especially the NHS. We should definitely occupy Chase Farm hospital to stop it from closing.
'We must do everything to keep the NHS as a public service. After all, we pay for it and our money should go to the NHS and not the banks.'
Doctor Sandip Mandal told the pickets: 'Chase Farm hospital benefits the whole of the community in this area.
'Patients are treated very well here and I believe they are very happy with this hospital.
'They will not be so happy if it closes and they are forced to attend a hospital much further away.
'I completely agree with your campaign.'
Claudio Clandio, a Portuguese student living locally said: 'The health service at home is not so good. We have a big private health service and a public free one.
'I think you should fight against private medicine coming into Britain and do everything to keep your national health service as it is.'
Meanwhile, Croydon Council is taking legal advice as part of the fight to protect A&E and maternity services at Croydon University Hospital.
The services are under threat as part of NHS South West London's 'Better Services Better Value' review, which will see the A&E and maternity ward at one of three south London hospitals – Croydon University, St Helier and Kingston – closed.
A panel of 60, made up of representatives from each hospital trust, local authority members and community representatives, will convene on May 9th to score each hospital as part of the decision into which should lose the service.
Croydon Council has questioned the fairness of the panel make-up and, after a complaint was overturned, is seeking legal advice.