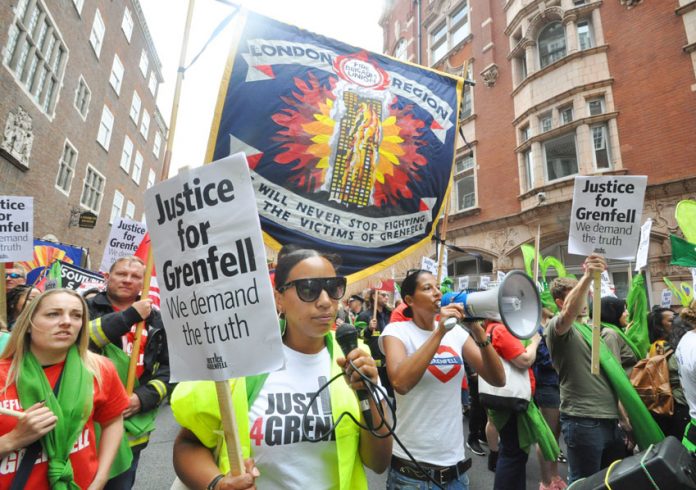 THE FIRST survivor to give evidence to the public inquiry into the Grenfell disaster yesterday told how he was trapped in his 10th floor flat for nearly five hours before two firefighters rescued him at 6am.
He also told the inquiry that tenants who raised safety fears were 'bullied' by the Tenant Management Organisation (TMO), which Tory Kensington & Chelsea Council brought in to organise the refurbishment of the block in 2016. Waiter Antonio Roncolato went to bed after a shift working at a hotel before being woken up at 1.40am by a call from his son Christopher.
He told the inquiry he tried to leave his flat multiple times but thick black smoke forced him to retreat. 'I kept thinking if I remained calm and acted rationally that I would come out of this alive. I was constantly checking round the flat for any signs of fire or smoke.' At 6am two firefighters in breathing apparatus made it to his flat, knocked on his door and told him they would walk behind and in front of him as they attempted to descend the stairs.
He said: 'I repeated their instructions back to ensure I had understood correctly. I then put on Christopher's goggles and my rucksack, pulled the zip up on my jacket and placed a cap on my head. One of the firemen took off my cap and placed a big wet towel over me instead. I was also given a smaller wet towel to hold over my mouth and nose. They said "are you ready? Let's go".'
'I could feel a lot of debris and what felt like mud under my feet. There was water and debris coming down from above us and the stairs were wet and slippery. I could hear the water cascading down the stairs. I was completely drenched by the time I left the building. 'I don't want to go into detail in this statement about the impact that the fire has had on me or Christopher, except to say that it has devastated the entire community.
'We have lost everything including our homes and all our memories and possessions. There is nothing left. I was one of the lucky ones, especially after being trapped for so long. I could have so easily been one of the 72 people that needlessly died. If it had not been for Christopher calling me, I would not have known about the fire.'
His testimony came on the first day of evidence of those who survived the inferno.
He described how residents had meetings with the council landlord, but 'the TMO was very resistant to coming to these and when they did, the meetings were often tense and residents would walk out'.
The TMO finally agreed to put some boilers in the flats, but 'for those residents who did not speak up, they were bullied into having the new boiler installed in the hallway by the front door'.
The building was refurbished with new cladding and windows in 2016, but after the building work he noticed a draught coming in around the closed windows and packed one of the gaps with plastic filler to stop the cold. He had asked the main contractor, Rydon, to sort it out, but got on with it himself rather than wait. The inquiry has previously heard that plastic fillers used around the windows and the new cladding panels helped spread the fire.