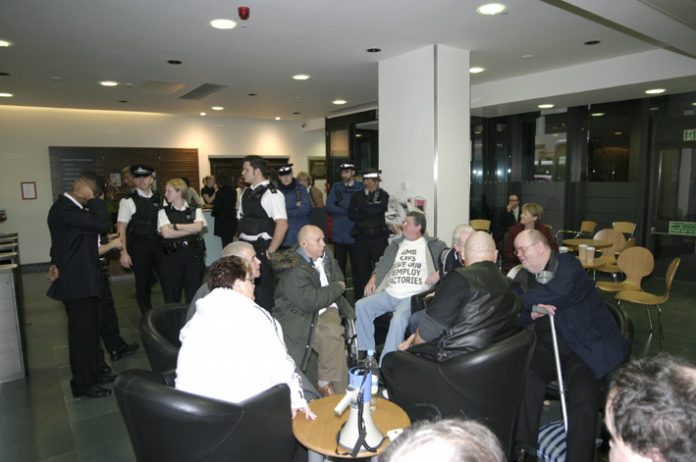 Yesterday morning Remploy workers, fighting for their jobs against Labour plans to close 28 factories, occupied the foyer of the Department of Work and Pensions' head office.
On the eve of a Remploy unions lobby of parliament, a group of eleven workers and shop stewards marched into Caxton House, central London.
Once inside Caxton House, three of them chained themselves to chairs in the foyer.
The protesters chanted: 'We want to see (work and pensions secretary) Peter Hain! Save Remploy factories! Sack the Board!'
Police were called and after an hour's stand-off Hain's principal permanent secretary John Oliver came out to speak the occupiers.
Oliver said: 'I'm just a civil servant, so cannot make any political statement.'
Remploy national convenor, Les Woodward of the GMB trade union, said: 'We want you to take a message to Peter Hain.
'We are not going quietly. We are not going to be bribed, bullied or beaten.
'He reneged on the promise he made at the Labour Party conference, to use public procurement to keep Remploy factories open.
'We're disgusted at that.
'And you can tell (minister for disabled people) Anne McGuire that if she thinks she is closing Remploy, she will have a battle on her hands.'
GMB senior steward for, Scotland Phil Brannan added: 'We withdrew our ballot for strike action on Peter Hain's promise.
'He and Anne McGuire refused to listen to the unions' warnings about the Board.
'Government policy means the factories won't survive. The policy has to change.
'We're here today because we're paying the price of government policy.'
Hain's permanent secretary Oliver replied: 'I will make sure Peter knows your views. I'm sure he does, and he cares deeply about Remploy.'
He added: 'I'm not going to have police evict you from this office.'
Manchester senior shop steward Brian Davies said: 'We've had the prime minister and other ministers who won't speak to us.
'If this meeting gets us nowhere we will name and shame Peter Hain and any MP who agrees with him.
'He's responsible for putting disabled people on the scrap heap.'
Les Woodward added: 'When the closure announcement was made on May 22, one person committed suicide.'
Before he left, Oliver concluded: 'Peter Hain is making a statement soon, possibly this week.'