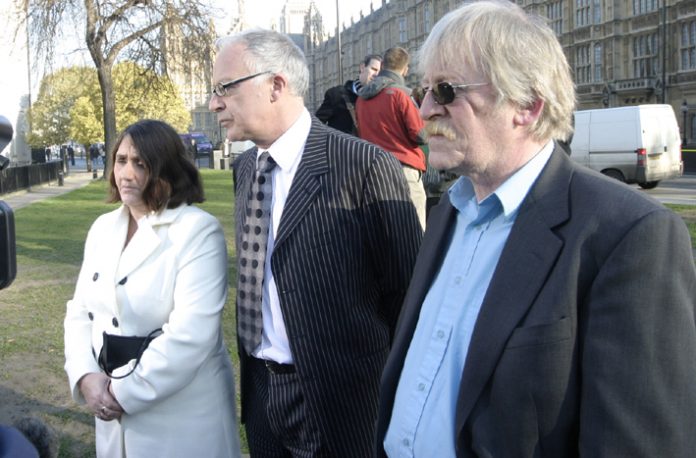 Former Prime Minister Blair and his war cabinet should be put on trial for war crimes, said the parents of soldiers killed in the Iraq war yesterday.
Nine Law Lords yesterday began hearing the case of the families of two soldiers, Trooper David Clarke and Fusilier Gordon Gentle, killed in Iraq.
Trooper Clarke was killed by 'friendly fire' on 25 March 2003 and Fusilier Gentle by a roadside bomb on 28 June 2004.
The Law Lords will decide whether the legality of the decision by the UK to invade Iraq should be the subject of a full, independent and public inquiry.
If the families are successful, former Prime Minister Blair, former Defence Secretary Hoon and Attorney General Goldsmith, the three defendants in this case, would have to give full evidence at a public inquiry as to the background to the Iraq war.
Rose Gentle, her solicitor Phil Shiner and Peter Brierley, whose son Lance Corporal Shaun Brierley, 29, from Batley in West Yorkshire died in a road accident in Kuwait, spoke to reporters outside the House of Lords before going into the hearing.
Shiner from Public Interest Lawyers said: 'All lawyers, except those employed by the government, consider the war to be illegal.
'We say our soldiers died for no good cause in Iraq as it was an illegal war.'
He urged: 'Politics must not affect the judicial decision.'
Rose Gentle said: 'It's really important to us to find out why my son was sent there and why he was killed in this war.
'Apart from not having the right equipment, we believe they should never have been there in the first place.
'We have asked the government before for an inquiry but it got turned down. It's five years, so it's about time they did have one.'
She added to News Line: 'We want to know why Lord Goldsmith changed his legal advice within days. It's all been hushed up.
'I think Tony Blair sent our boys to war on a lie. He went into the war with George Bush without a thought. The government should get our boys out now.'
She concluded: 'We're asking the Law Lords to grant our appeal for a public inquiry.
'If an inquiry finds the war illegal, I want the government to learn by that mistake and not do it again.
'Tony Blair and his ministers should be put on trial for war crimes.'
Peter Brierley told News Line: 'At the beginning I believed we were under threat.
'My son was the first to die, on March 30 2003, still believing he was defending his country.
'We want a public inquiry to prove the war was illegal or not.
'I want to see an inquiry where everyone who was involved is brought to give evidence.
'If the inquiry decides the war was illegal, people should be put on trial for crimes against humanity.
'They destroyed a country. Teachers were killed. Professors were killed. Libraries were destroyed.
'The whole fabric of Iraqi history has been destroyed.'