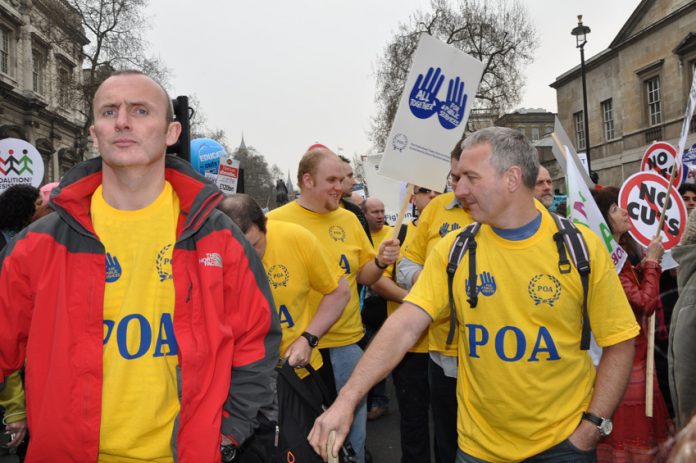 'WE HAVE consistently called for the entire prison estate to be brought back into the public sector,' Peter McParlin, National Chairman of the Prison Officers Association, told News Line yesterday.
'It is morally repugnant to make a profit out of the misery of others, this has been our consistent message.
'We are absolutely opposed to the privatisation of prisons, the experiment has been an utter failure, as you can see most clearly at Oakwood.'
McParlin was talking as ministers and prison privateer G4S were accused of attempting to 'cover up' the true scale of disturbances on Sunday at the UK's largest prison, Oakwood, near Wolverhampton.
Conflicting accounts have emerged of what happened at the 1,600-place jail, while fresh reports show further violent incidents have occurred at the prison in the months before the most recent outbreak of disorder.
In a joint statement on Monday, the Ministry of Justice and G4S claimed the incident involved up to 20 inmates and that reports that prison staff had been taken hostage were 'completely untrue'.
However, Sadiq Khan MP, Labour's shadow justice secretary, claimed: 'More and more information is coming to light that suggests the Ministry of Justice and G4S are trying to cover up the true scale of the disturbances in the Justice Secretary's flagship Oakwood prison on Sunday night.'
Oakwood opened in April 2012 and in a report published last October, Chief Inspector of Prisons, Nick Hardwick, warned there were 'real risks if matters were allowed to drift' at the prison.
Iqbal Singh Kang, a consultant at Gurney Harden Solicitors, which represents a number of prisoners at Oakwood, said yesterday: 'I am truly concerned that if steps are not urgently taken to address the management or mismanagement style of the prison and prisoners, there may be a major riot within the establishment which has yet to reach full capacity.'
Frances Crook, chief executive of the Howard League for Penal Reform, said: 'It is well-known in prison circles that this institution is referred to as "Jokewood" by prisoners and staff across the system, but this isn't a joke – it is deeply serious.
'This private prison has been open for a year-and-a-half and it is getting worse, not better. On a payment-by-results model it would be closed because G4S are being paid for it and it is not delivering results.'
Peter McParlin told News Line yesterday: 'They are trying to run it on the cheap. they haven't got the experienced staff that the public sector provides.
'They are inappropriately resourced. You just have to have a look at the inspectorate report that came out at the end of last year by Nick Hardwicke, Chief Inspector of Prisons.
'If you do you'll see the worst inspection report that there has ever been, that's my view.
'We have consistently called for the entire prison estate to be brought back into the public sector.
'It's mainly about the protection of the public, who are opposed to private prisons.
'But we have also called through the TUC for an inquiry into the cost of the privatisation of all services, not just the prison service.'