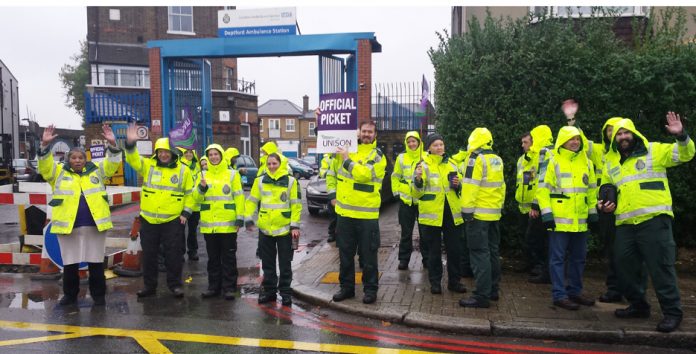 DOCTORS', nurses', ambulance staff leaders and Labour yesterday slammed plans to more than double target times for ambulances to reach some seriously ill patients.
A leaked document drawn up by the Association of Ambulance Chief Executives (AACE) and dated 16 December and approved by Health Secretary Jeremy Hunt, includes plans to change the response time for some Red 2 patients, those with 'serious but not the most life-threatening' conditions, from eight to 19 minutes in England.
Current targets are: Red 1: Respiratory or cardiac arrest, response in eight minutes
Red 2: All other life-threatening emergencies, such as stroke and fits, response in eight minutes
Tony Hughes, GMB regional officer for Ambulance service in London and East of England said: 'These proposals by AACE are ridiculous. They will only serve to bring worse outcomes for patients.
'The proposals are clearly motivated to the run up to the general election so that the Tories can show that the Ambulance services are meeting their targets which is so far from the truth.
'If these plans go ahead we will see people die more often that we see at the moment from conditions that can be treated given the right resource is with them in good time.
'The whole of the A&E structure is at breaking point due to the changes this government has already made.
'Some of the issues why there are slow responses to the service are: no beds at hospitals, new CCG funding few opportunities to access other medical assistance, the closures of A&E's and walk in centres and the new 111 service. All these have caused Emergency Services to be at breaking point.
'We have unfilled vacancies and yet government do not want to keep pay up with inflation. That's why GMB ambulance staff are looking at 48 hours continuous strike at end of January.'
Opposing the move to extend targets, British Medical Association Council Chair Dr Mark Porter said the NHS gave 'good service to the people of this country'.
Calling for more funding, he added: 'The fact that we can only do so, by running many hospitals on a continuous sense of crisis shows how close to the wire we are at all times.'
Former NHS heart 'tsar' Professor Sir Roger Boyle warned: 'Mr Hunt's decision risks leaving thousands of seriously ill people waiting longer for ambulances this winter.'
Labour's shadow health secretary Andy Burnham said it was wrong to make such dangerous changes in the middle of a Winter crisis and the government should employ more ambulance staff.
He has written to Hunt asking him to explain why the ambulance target measures, proposed to be brought in within weeks, were not disclosed to Parliament days after he signed them off.
Burnham said yesterday: 'Jeremy Hunt was dragged before Parliament last Thursday to answer questions on NHS winter planning but treated (it) with contempt.
'It is outrageous that he decided to keep MPs and the public in the dark about a decision he had already taken and one which will have far-reaching implications across the NHS.'
He added: 'This leak leaves Jeremy Hunt with extremely serious questions to answer. He must do so today.'