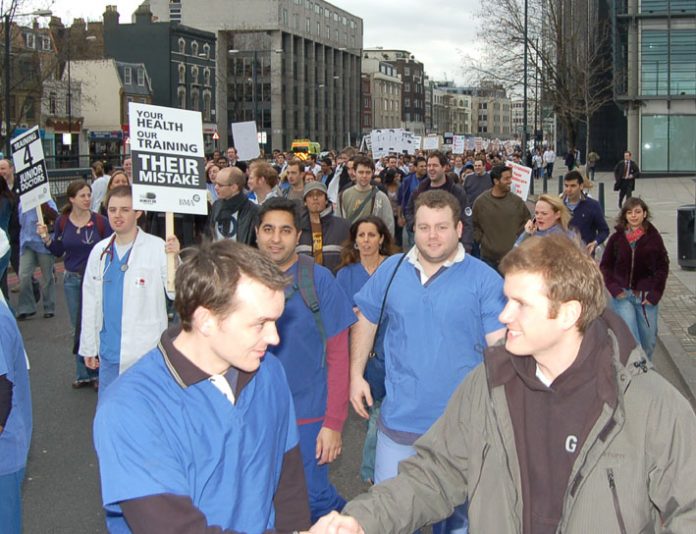 Leading consultants and junior doctors have warned that the medical training crisis is risking patient safety as the NHS faces upheaval on August 1st when completely new teams of junior doctors take up their posts.
Doctors' group Remedy UK is going to the High Court today to challenge MTAS (Medical Training Application Service) – part of the government's controversial 'reforms' known as Modernising Medical Careers (MMC).
The new system has already caused uproar after the personal details of doctors were published on the internet.
A Remedy spokesman, Matt Shaw, told News Line yesterday: 'We are looking forward to getting justice for doctors and a ruling that this system is unlawful and unfair.
'For the first time in the history of this country, all junior doctors of every specialty and every grade will change jobs on the same day.
'They will not be notified which hospital they are going to until June 10, for an August 1 start.
'This means that every junior doctor won't know the hospital, the procedures, how to get blood results, how to get X-rays or where anything is in the hospital on that day.
'This is why everyone is so concerned for patient safety.
'We are calling for the system to be scrapped and for doctors to be staggered into their posts.'
Meanwhile, ninety per cent of hospital consultants have expressed 'no confidence' in Health Secretary Patricia Hewitt and the Chief Medical Officer (CMO), over the government's disastrous doctor training reforms.
A survey organised by 18 senior specialists drew 3,500 responses and also found:
• 75 per cent opposed a 'single interview' system;
• 85 per cent supported a consultant boycott of the interviews and a postponement of 'the unnecessary August 1 meltdown';
• 72 per cent were angry at the way the leadership of the British Medical Association has handled the situation.
A letter from Professor Morris Brown, sent to 'The Times' and signed by 17 other specialists, said: 'The Secretary of State has apologised for the distress to doctors, but not yet to patients when 10,000 doctors disappear in August.
'She has said she would take personal responsibility only for a policy blunder.
'What counts as blunder if not her department's investment in another high-profile IT disaster? If not sanctioning a change to medical careers without adequate piloting, validation and consultation?'
Yesterday Health Secretary Patricia Hewitt issued a ministerial statement, which said: 'MWR Infosecurity has now completed a full security review of the MTAS system. Action has been taken by the contractor (Methods) to address the weaknesses identified. . .
'Because the investigation has made it clear that criminal offences may have been committed, the MWR analysis and report have been given to the police.'
Hewitt claimed: 'Given the continuing concerns of junior doctors about MTAS, the system will not be used for matching candidates to training posts, but will continue to be used for national monitoring.'
Dr Matt Jameson-Evans, another leader of Remedy, said: 'This is a smokescreen that changes nothing.
'Doctors who don't get a training post on August 1 will still have almost no option to progress with their training in this country, which means they would either have to leave the country or quit the medical profession.'
The BMA said it was 'extremely concerned that the Health Secretary believes criminal offences may have been committed as a result of security breaches.'