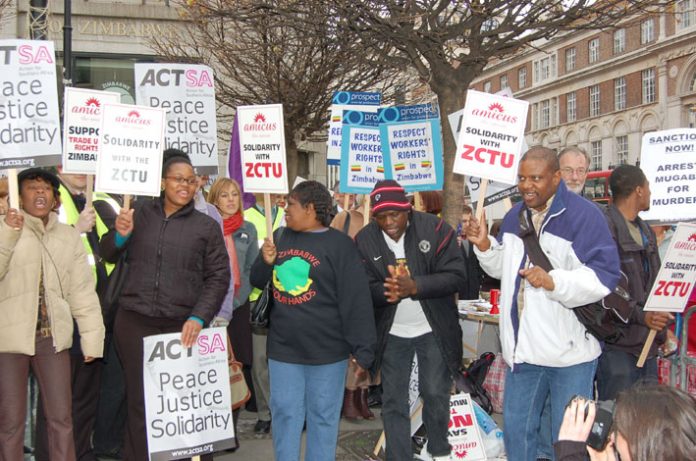 MDC leader Morgan Tsvangirai has had his passport returned to him as have other Zimbabwe Opposition officials.
The documents were taken off them at Harare airport yesterday as they were about to board a plane to South Africa to take part in a crisis summit meeting over a Zimbabwe settlement.
An MDC spokesman said that Tsvangirai and two colleagues still hoped to make the summit.
They are due to meet South African President Thabo Mbeki, who is mediating in Zimbabwe power-sharing negotiations.
The talks were adjourned on Tuesday without agreement, after Tsvangirai refused to agree a deal that had already been made by Zanu-Pf leader Mugabe and the leader of an MDC breakaway Arthur Mutambara.
Tsvangirai said that he wanted time for reflection and added: 'We knew negotiations would be difficult, but a resolution that represents anything other than the will of the Zimbabwean people would be a disaster for our country.
'We must have an agreement that upholds the will of the people.'
When the passports were originally seized, MDC General Secretary Tendai Biti said it showed that the talks with Mugabe's Zanu-PF party were a farce and a sham.
According to Mr Biti, the MDC delegation were also planning to attend a summit of the Southern African Development Community (Sadc) in Johannesburg this weekend at which Zimbabwe is expected to be top of the agenda.
The points still in dispute at the power sharing talks include:
• Whether Mugabe or Mr Tsvangirai holds the executive power as President or Prime Minister. Mugabe does not want to be 'just' a ceremonial president.
• The composition of any coalition cabinet.
• The control of Zimbabwe's security forces.
• The legal liability of those involved in attacks on the opposition parties including members of the judiciary the police and the army, and whether there should be an amnesty.
• Compensation for those injured by political violence against the opposition parties.
Tsvangirai won the first round of Zimbabwe's presidential election in March, before pulling out of a June run-off citing a campaign of violence against his supporters.
In parliamentary elections, his party took 100 seats, Mutambara's faction took 10 and the ruling Zanu-PF 99.
Mutambara did not back the MDC in the presidential poll. He supported the independent former finance minister Simba Makoni – a strong proponent of a unity government.
South African President Mbeki said on Wednesday that he was confident Zimbabwe's rival political leaders could reach a deal on an 'inclusive' government, despite the adjournment of talks.
Visiting Angola after mediating three days of negotiations in Zimbabwe, Mbeki said he was 'convinced that very soon we will conclude these negotiations', Angolan state radio reported.
Earlier, in the talks on Tuesday, Mbeki said: 'We have dealt with all the elements on which President Mugabe and Mutambara agree, but there is disagreement on one element over which Morgan Tsvangirai had asked for time to reflect.'