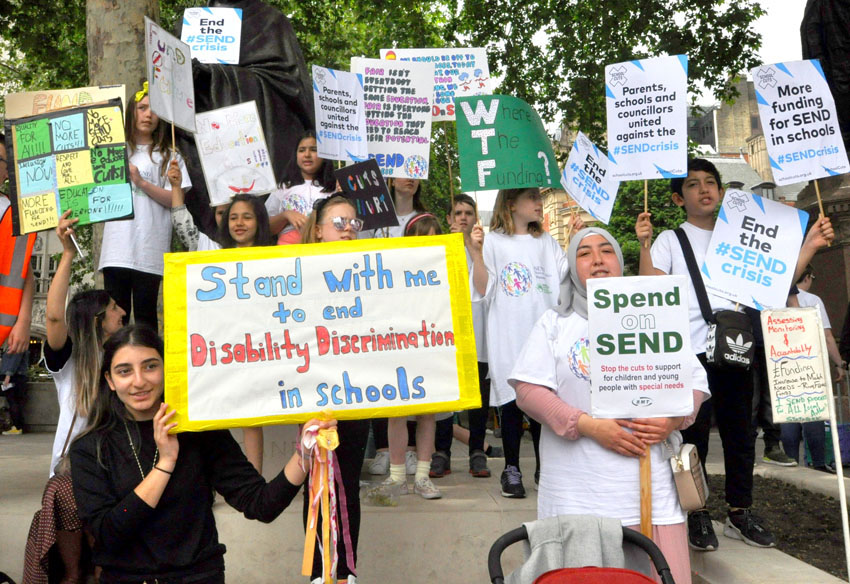 OVER 500 parents and children held an angry protest outside Downing Street demanding an increase in funding for children with special educational needs and disabilities (SEND).
After handing in their petition to Downing Street they held a lively march to Parliament Square for a rally.
One of the campaigners, Roanna Brewer from Pevensey, East Sussex told News Line: 'I want education for my two autistic children who are both at home with me because the Tory government doesn't want to pay for their education.
'I have had to take their case to three tribunals and won them but it has been so much stress.
'Education is being privatised you can see it with academies and they are starting with the weak and vulnerable.'
Roanna's friend, Lorraine Heugh, came to Downing Street with her son Nico and said: 'My son, along with two other SEND children are taking Chancellor Philip Hammond and Education secretary Damian Hinds to the High Court on June 26th to challenge the lawfulness of the government's special needs funding.
'I have taken my case to tribunals and been awarded funding which the local authority is legally obliged to provide.
'Yet after the tribunal the local authority refused to provide the funding to the school so we then have had to take further legal action.
'This has all taken two years.'
Parents Mary and Marie from Hammersmith told News Line: 'Our children are suffering discrimination with not enough funding being provided for special needs.'
Marie said: 'My child has been out of education for six months because of lack of extra funding.'
At the rally in Parliament Square one of the protest organisers, parent and teacher Emma Parker said: 'Twenty five marches are being held around the country today.
'Thousands of children are still waiting for school places. This is a crisis that can't be ignored, that is why we are here today.
'We know children are being excluded from schools to improve schools' positions in tables and also there are many schools that are so full they cannot take any more pupils.'