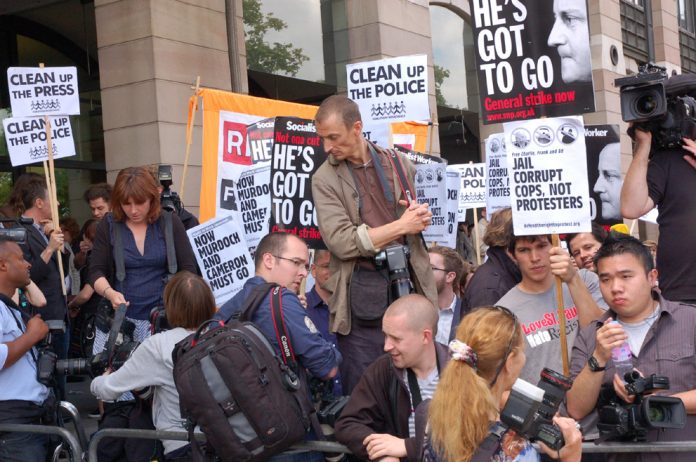 RUPERT and James Murdoch yesterday sought to stonewall MPs questioning them about phone-hacking at the 'News of the World', denying any responsibility or knowledge of what was going on.
The Murdochs were questioned at length, with MPs asking them about 'blackmail', phone-hacking and a file of 'paper' that was apparently left unexamined with lawyers Harbottle and Lewis.
They also told MPs that there were questions they couldn't answer because of a police investigation, and were quizzed about the legal expenses of jailed royal editor Clive Goodman and jailed private investigator Glenn Mulcaire, as well as the resignations of a string of top executives including Les Hinton and Rebekah Brooks.
MPs on the Culture, Media and Sport Committee refused to take an opening statement by the Murdochs.
And the MPs said that in two previous hearings their committee had been 'completely misled'.
Asked if he had considered resigning, Rupert Murdoch said: 'No. I feel the people I trusted have let me down. I think they behaved disgracefully, betrayed the company, me, and it's for them to pay. I think, frankly, I'm the best person to clear this up.'
Labour MP Tom Watson intervened at the end of the session to ask if the Murdochs would authorise the lifting of the confidentiality clause in the Gordon Taylor settlement, if Taylor agreed.
'Will you release them from the confidentiality clause so we can get to the full facts of the case?' asked Watson. 'I don't think it's worth exploring hypotheticals,' James Murdoch replied.
'If he removes himself from the obligation?' asked Watson. 'It's a hypothetical situation,' James Murdoch repeated.
• The three senior Metropolitan Police officers who appeared before the House of Commons Home Affairs Select Committee yesterday sought to avoid responsibility for the employment of Neil Wallis.
Wallis was employed by the Met at £1,000 a day as media adviser from 2009 until earlier this year.
He was News of the World deputy editor at the time when prime minister Cameron's former press officer Andy Coulson was the paper's editor. He was arrested on July 14 on suspicion of conspiracy to unlawfully intercept communications.
Metropolitan Police Commissioner Sir Paul Stephenson, who resigned on Sunday, Director of Public Affairs Dick Fedorcio, who is being referred to the Independent Police Complaints Commission (IPCC) over his links to Wallis, and Assistant Commissioner John Yates, who resigned on Monday, appeared in turn before the committee.
Stephenson said he had only decided to resign on Sunday when he became aware that Wallis was connected to Champneys health spa, where he had received £12,000 of free accommodation earlier this year.
Asked about a 'personal attack' on PM Cameron in his resignation statement on Sunday, Stephenson described it as 'media spin', claiming: 'I made no personal attack on the Prime Minister'.
He added: 'I did not imply the prime minister couldn't be trusted'. He also claimed: 'Wallis had a very minor contract, very part time.'
Stephenson said that he had 'no reason to doubt Mr Wallis' integrity' because Wallis had assured Yates that his appointment would not cause embarrassment.
Next to appear was the Met's public affairs director, Fedorcio, who told the committee that Wallis was not a friend but that he had known him as a 'business colleague' since 1997. Fedorcio claimed he had never discussed the phone-hacking inquiry with Wallis.
Next came Yates, who in 2009 had carried out a one-day review of phone-hacking at the News of the World and concluded there was no cause to reopen the original 2006 hacking investigation.
Committee chairman, Keith Vaz said to Yates: 'Mr Fedorcio has just told us . . . that he decided to employ Mr Wallis because of your reference . . . and that if you had raised any concerns whatsoever he would not have employed him in the Metropolitan Police.'
During Stephenson's evidence, it emerged that 10 of the 45 members of the Met's Directorate of Public Affairs are former employees of News International.
Rebekah Brooks followed the Murdochs before the Culture, Media and Sport Committee.
She told the committee: 'Since the Sienna Miller documents came into our possession (in 2010) it was the first time the senior management had actually seen some documentary evidence relating to a current employee.' She added: 'It was only when we saw the Sienna Miller documentation that we realised the severity of the situation.'
As Brooks was being questioned, it was announced on the BBC that the Tory party were about to issue a statement that Neil Wallis was involved in informally advising Andy Coulson in the time he was working for David Cameron.