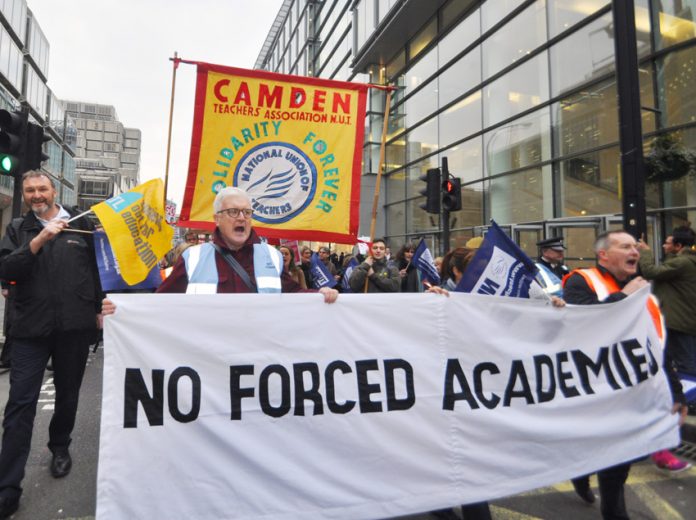 THE National Union of Teachers (NUT) annual conference in Brighton yesterday voted unanimously for the scrapping of the Tory 'Prevent Strategy'.
Delegates condemned the government's 'anti-extremism' policy, saying it creates 'suspicion and confusion', stops teachers discussing 'challenging ideas' with pupils and encourages a 'climate of over-reaction' in which pupils are mistakenly reported and police called.
The motion demanded the government withdraw the Prevent Strategy for schools and develop an alternative approach. Lisa Tunnell from Chesterfield said Prevent 'disproportionately targets Muslims', while fears about pupils being reported to the police means schools are not able to have 'honest and open' debates.
Gary Kaye from north Yorkshire said students want to talk about major events in the news, such as terror attacks, but schools have become uncertain about what can be debated and teachers are being used as the 'secret service of the public sector'.
Commenting after the debate, Christine Blower, NUT General Secretary, said: 'The NUT believes there is a moral obligation on schools and teachers to protect children and young people against extremism of whatever nature. The union does, however, have some concerns regarding aspects of the current Prevent Strategy.
'The NUT supports the call from the Independent Reviewer of Terrorism Legislation, David Anderson QC, and many others, for a review of Prevent. Evidence shows that grooming by extremist groups happens mainly on social media sites, not on school premises. Schools' best contribution to countering any behaviour that could be a problem is by encouraging discussion.
'Some aspects of Prevent inhibit this and it is for this reason that we need a review of the strategy to find the right, and best way to protect children and young people. The NUT is calling on the government to involve the profession in developing alternative strategies to safeguard children and identify risks posed to young people.'
Commenting after the debate on Motion 41 on Racism and Migration, Blower said: 'Schools and teachers play a key role in welcoming migrant and refugee children and young people to this country, and supporting their progress within schools.
'The NUT condemns the government's inadequate response to the current migrant situation, which has exacerbated the suffering for so many, including school-age children and young people. The NUT has produced a guide to Welcoming Refugee Children to your School and has a dedicated section on its website for teaching resources which have been provided by teachers for teachers, on the issue. 
'The NUT will continue to work with Show Racism the Red Card, Hope Not Hate and others, to campaign for government policies that welcome migrants and refugees to this country. The NUT will also continue to press for anti-racism work to be enshrined within the curriculum of all schools.'