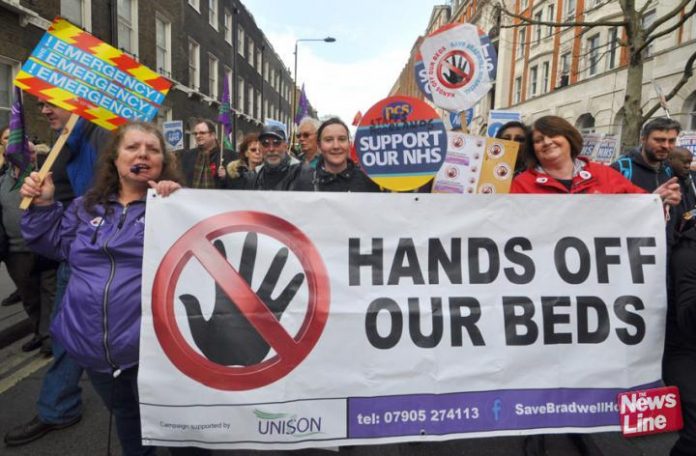 HOSPITAL staff are sleeping on hospital wards during this extreme weather to ensure that patients get treated. They are working in extremely difficult conditions because as the snow has hit, with all the extra accidents on top of savage Tory bed cuts, many hospitals did not have a single bed vacant. Medical staff stayed overnight at Sunderland Royal Hospital with the Trust posting: 'Good morning #TeamCHS!!! Huge thanks to all staff who stayed the night, walked for hours, offered lifts and rooms, worked through the night. You are #awesome.
'Gents to the left, ladies to the right! Can you believe many of our amazing staff are sleeping in the hospital tonight so they can care for patients tomorrow?! #ThankYou.' Figures emerged which show bed occupancy at complete capacity in hospitals around the country.
For instance, on a single day last week:
Kettering; The Whittington and North Middlesex; London North West NHS Trust; The Princess Alexandra, Walsall; James Paget, Croydon; Hillingdon; Weston Area; Milton Keynes; Wye Valley and Barnsley Hospital NHS Foundation Trust were all at 100% capacity! Most of the other hospitals were working at between 96-99% bed occupancy.
Janet Davies, Chief Executive and General Secretary of the Royal College of Nursing, responding to the latest NHS England Winter Performance figures, said: 'Even before the snow, one in seven of England's hospital trusts hit capacity last week – filling every single routine and emergency escalation bed available on at least one day. 'When hospitals are full to bursting, extra effort is needed to keep people safe – wards must be staffed to higher levels and patients must not feel abandoned on makeshift beds in corridors or unsuitable rooms.
'This week's weather is piling extra pressure on the NHS – with the service's own senior medic warning of a "perfect storm" when combined with the spikes in flu and norovirus. 'After the full picture on finances and vacancy levels was revealed last week, the Health Secretary and leadership of the NHS must make sure the Health Service can get through the rest of the winter safely.'
Meanwhile, the BMA has slammed the government's decision to continue with their new scheme which forces hospitals to disclose confidential NHS patient data to the Home Office. The Home Office then uses that data to trace 'potential immigration offenders' so that they can be incarcerated in detention centres and deported.
BMA medical ethics committee chair, Dr John Chisholm, said: 'It's not only dangerous to deter patients from visiting a doctor for their own health, but it could pose a wider public health risk if conditions aren't diagnosed and treated because someone's been too fearful to come to the GP practice.
'This arrangement between NHS Digital, the Home Office and the Department of Health is eroding the faith patients place in the medical profession. 'If patients fear a visit to their doctor could mean their private data are used for purposes other than those for which they're sought and given, it could have dangerous repercussions.'