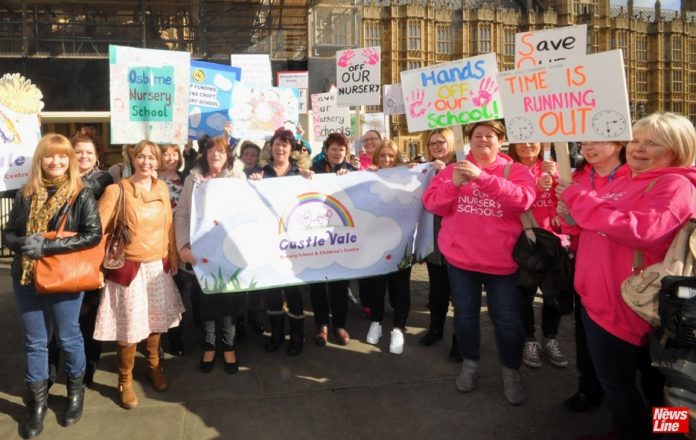 NURSERY heads marched on Downing Street yesterday, furious at the desperate lack of funding which is now so bad that nurseries are threatened with closure putting children's futures at risk.
251 heads lobbied MPs then delivered a letter to Chancellor Philip Hammond. The head teachers' union NAHT said there are currently 392 maintained nursery schools, with 16 having shut due to budget pressures since 2016.
The demonstration was called by the NAHT and the All-Party Parliamentary Group for Nursery Schools, Nursery and Reception Classes.
Their letter stated: 'The long-term survival of maintained nursery schools still hangs by a thread.
'The fact remains that, even with the supplementary funding, most maintained nursery schools have had to make large cuts and make hard decisions to balance reduced budgets.
'Cuts to nursery schools will simply shift the pressure onto other public services – SEND (special needs) provision, health and social care and a wide range of other services will be left to pick up the pieces if we close.'.
The letter described maintained nurseries as 'the jewel in the social mobility crown', with 64 per cent of them located in the 30 per cent most deprived areas of England.
Closure would mean 'pulling the rug from under the children and families we support, as well as the aim and objectives of ministers to tackle the "burning injustices" facing our country', the heads said.
NAHT general secretary Paul Whiteman said: 'Maintained nursery schools have a critical role to play in the delivery of high-quality early years education, especially for children with special educational needs, but their future has been left uncertain by the government's new approach to early years funding.
'Currently maintained nursery schools are funded in a way that recognises their importance.
'But this additional funding comes to an end in 2020, leaving schools unsure if they will be able to carry on or plan beyond that date.'
The NAHT said an analysis of government spending figures showed 20.3 per cent of maintained nurseries are in deficit – almost six times the proportion seen in 2009-10 – against 10.2 per cent of maintained schools of all kinds.