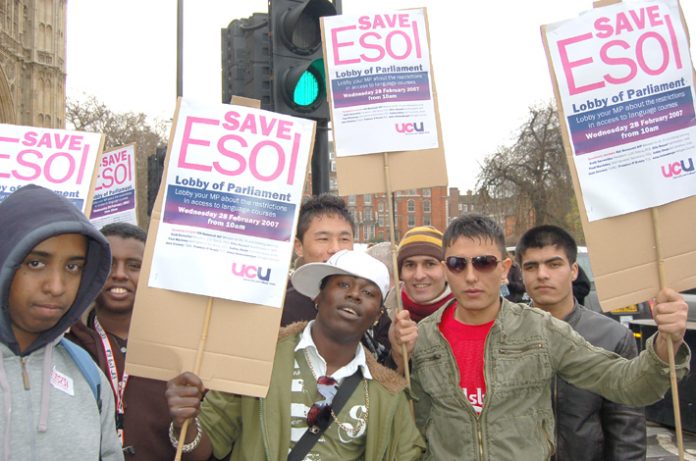 Staff and students from North London colleges are today marching to demonstrate their opposition to plans to restrict access to free English for Speakers of Other Languages (ESOL) courses and the continued cuts in adult education.
Three marches from across North London will converge on Hackney Town Hall for a 2pm rally.
From September, many ESOL students will have to pay new fees of up to £800.
These are unaffordable for many women and low paid workers who need language skills for work and to integrate into local community life.
In London, despite waiting lists, some ESOL courses are expected to close and teaching jobs will be lost.
Lecturers at Tottenham College already face 35 job cuts and 32 posts are to be axed at Hackney Community College.
Cuts of £25m will also mean many adult education courses valued by low income and retired people will be axed.
News Line spoke yesterday to William Brownings, a teacher of ESOL and University and College Union (UCU) membership secretary at Hackney Community College, east London.
Speaking in a personal capacity, he said: 'We have been telling all our students to join the demonstration and to bring their friends and family.
'It's really important, because the cuts will have a serious impact on a lot of people in inner-city London.
'English is vital if people are going to be able to use the services, use the NHS, use their local library, get to know their neighbours and help their children with their homework, and to get a job.
'This is going to especially have an impact on women and people in work, because if women's husbands work then they might not be entitled to any free classes.
'The proposed fees will be more than what most people can afford.
'Most of our students, if they are working, are in low-paid jobs.
'This is all happening against a backdrop of very serious funding cuts across adult education.
'At our college there are definite plans to push through redundancies and a lot of teaching staff are fearful for their future.
'We don't see this as the end of the campaign, we need to get as many people involved in the campaign as possible – teachers, students, other members of the community and other trade unionists.
'Education is a right, and if the government don't agree with that then they should get out of the way!'