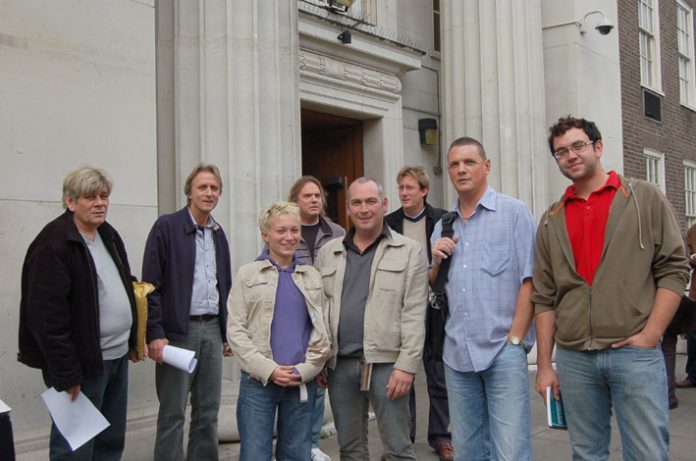 Communication Workers Union representatives from across the country yesterday slammed the changes to Royal Mail pensions that their leaders want to sign up to, as they met for the second time in central London.
Before going into yesterday's meeting, Peter Sansum, Cleveland Amal CWU branch, told News Line: 'It's absolute rubbish, it's a disgrace and they should throw it out totally and if they don't, they should resign.'
Wolverhampton and District area delivery rep Dave Jones said: 'The fact that if the pensions deal means us now having to work to 65 could mean five years of hard labour for postmen out on delivery – the last five years of torture – and basically the Wolverhampton and District branch will not support the increase in the retirement age to 65.'
John Crussell, an area distribution rep from Anglia division, said: 'We'll be saying no to the pay deal and I'll be recommending saying no to the changes in pensions to 65 as well.
'We have to think of our members. For our members it's a diabolical liberty.'
Last week CWU area reps and branch secretaries met to hear their union leaders, Dave Ward and Billy Hayes, call for acceptance of the deal on Pay and Modernisation that they struck with Royal Mail bosses to call off strike action.
A letter to the union's members from Ward and Hayes following last week's meeting, dated October 29, said: 'It is the right thing to bring this dispute to a conclusion – consolidate the gains we have achieved – take the opportunity locally to use the National Agreement to lead change in a mutually beneficial way. . .
'Next week you will receive a full copy of the agreement and a ballot paper. Please use your vote.'
But many CWU reps attending yesterday's meeting told News Line that their branch committees had voted to recommend rejection of the deal or were about to.
Ian Warwick, SE No.5 branch, southern England, said: 'There's a campaign been set up – No to the Deal – and branches are beginning to support it.'
On pensions, Ward and Hayes maintained in their Letter to Members that: 'We have de-coupled pensions from the Pay and Modernisation Agreement.
'This will now be dealt with as a group wide issue and following the legal consultation you will be balloted separately on the agreed proposals. . .
'It is essential we have an informed debate on pensions and we will be writing to you in the near future.'
Paul Garroway, South Central No.1 branch, said: 'There's no branch that can put up with this pensions deal and our branch is going against the deal on pay and conditions.
'The pensions is the biggest issue for the membership.
'What the executive committee have done is to say that they won't campaign against Royal Mail during the consultation period.'
Alan Dawson, a customer and sales rep, said 'basically' Ward had told yesterday's meeting on pensions that 'no change at all is not an option.'
Peter Boulton, Colchester and District Area Rep, told News Line: 'When you have to tell new recruits to the Royal Mail there is no final salary pension and a flexibility package means they have to work 30 hours during the summer and 50 hours in the winter, then recruitment is going to go through the floor.'