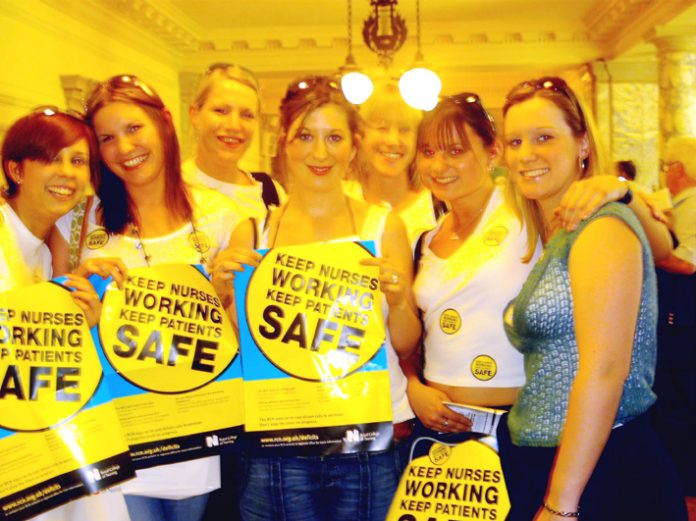 'Student nurses are frustrated, angry and disillusioned because of the difficulties they face finding jobs as deficits bite,' said UNISON, the UK's largest health union, yesterday.
Thousands of newly qualified nurses and other health professionals will be without jobs by the time they graduate this year, according to a survey carried out by UK health facilities representative body, the Council of Deans.
Its survey of twenty universities found that more than 80 per cent of nurses qualifying this summer have yet to find a job, compared to 30 per cent this time last year.
Only a quarter of students who have already graduated from one London university have found work.
Just five per cent from a North East Midwifery faculty have secured a post.
Gail Adams, UNISON Head of Nursing said: 'It is clear that the Department of Health has failed to forward plan, or we would not be in this dire situation.
'It is immoral and unethical to have allowed these students to devote three years of their time, energy and dedication to become nurses, only to find there is no job at the end of it.
'What a waste of taxpayers money. It takes around £50,000 to train a nurse and to see this money wasted is a disgrace.
'The current shortage of jobs is being fuelled by financial deficits in the NHS, and student nurses are paying the price.'
Janet Davies, Executive Director, Service Delivery at the Royal College of Nursing said: 'These are deeply worrying figures and throw into sharp relief the impact of the financial crisis in the NHS.
'In order to tackle burgeoning debts, trusts have cut or frozen the very posts that newly-qualified nurses would move into.
'This is a short-term move which will have a devastating impact not only on student nurses, but on the rest of an over-stretched nursing workforce, and on patient care.
'Thousands of pounds have been invested in the training of student nurses, and we desperately need them in the health service, caring for patients.
'People considering nursing as a career may now think twice.
'If there is no long-term vision the NHS could soon be facing a serious shortage of nurses.'