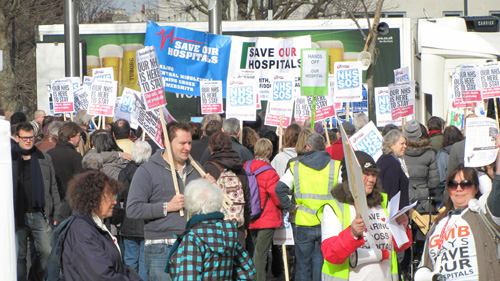 ENGLAND'S hospitals have been dangerously full of patients during the month of January, the Labour Party warned yesterday.
Shadow health secretary Andy Burnham said: 'Too many hospitals across England are operating beyond safe occupancy levels. Due to cuts to council care budgets, many are having to sail dangerously close to the wind.
'Ministers must act on this warning and ensure all hospitals have enough beds open and staff to get safely through the Winter.'
The Department of Health (DH) has produced figures showing that there was just under 95% occupancy of hospital beds on 22 days in January.
The safe level of bed occupancy is 85%, according to Dr Foster Intelligence which is part-funded by the DH.
In England's 159 hospital trusts, which have 101,000 beds, the occupancy level never dropped below 95,000.
For every day in January 10% of hospital trusts, that is 16, were full.
Fifty five hospital trusts, one third, had no available beds on at least one day in the month.
Those hospitals whose beds were full up for the longest time were as follows;
Ashton under Lyne Greater Manchester Tameside – 22 days, Ipswich – 21 days, Ealing – 21 days, Great Yarmouth James Paget – 18 days, Lewisham – 16 days, Guys and St Thomas's – 14 days, Northampton – 13 days, Shrewsbury and Telford – 12 days, Surrey and Sussex Redhill – 12 days, Great Western Swindon – 12 days.
A recent Dr Foster report said that occupancy rates of over 85% can start to affect the quality of care provided to patients and the orderly running of the hospital.
Hospital bed occupancy always goes up in Winter, and this year was exacerbated by outbreaks of norovirus.
When a hospital's beds are full, the only way a new patient can be admitted is to discharge a current inpatient; one-in-one out.
Thus, there are enormous pressures on hospitals to discharge patients prematurely to care for the sick patients coming into A&E.
In response to the figures, a Department of Health spokesman said: 'The NHS is doing more to give patients better treatment which also reduces demands on beds – more patients are being sent home on the same day than ever before and the average length of stay has steadily come down over the decade.'
Shadow health secretary Burnham's diagnosis of the problem is that hospitals are struggling with factors beyond their control such as inadequate social care provision.
He did not mention the dangerous overfilling of hospital beds, the £20bn QIPP ('efficiency savings') cuts over five years, the drive to foundation trust status or the closure of district general Hospitals – which all began during Labour's period of office.
Meanwhile, the coalition is proceeding with its war on District General Hospitals.
Tomorrow morning the Department of Health is due to give the go-ahead for the closure of four west London A&E departments.
NHS North West London primary care trust has recommended Charing Cross become a 'local hospital' with no A&E, surgery, Intensive Care or Stroke Unit, with the majority of the Charing Cross site being sold off at a profit for development.
The PCT recommends that Hammersmith, Central Middlesex and Ealing Hospitals lose their A&Es.
Also under threat are Lewisham A&E and maternity in south east London, and Chase Farm A&E, maternity and paediatrics, in north London.
All hospitals facing cuts and closures must be occupied by the trade unions who must pick up the gauntlet and organise a general strike to bring this government down and go forwards to a workers government and socialism.