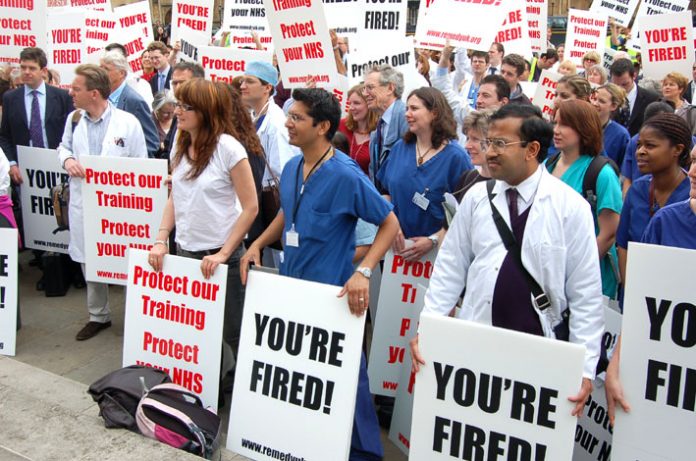 THERE will be total 'chaos' in the NHS by August – unless the government immediately scraps MTAS (the new Medical Training Application Service), a rally of 400 angry doctors opposite parliament was told yesterday.
The rally heard that 11,168 doctors have signed an 'e-petition' to Downing St opposing MTAS and the government's Modernising Medical Careers (MMC) scheme, and demanding the return of responsibility for medical training to the Royal Colleges of Medicine.
In the last two weeks alone, over 3,200 doctors from all grades, including professors, consultants and junior doctors have put their names to a letter, warning that Modernising Medical Careers 'will seriously harm patient care, both immediately and in the long term.'
It adds that the MTAS review group's final conclusions with regard to the selection of doctors for consultancy training posts this year 'are absolutely unacceptable'.
Yesterday's mass demonstration and lobby of MPs was organised by Remedy, and supported by Mums 4 Medics, who warned: 'On August 1st over 10,000 hospital doctors will be thrown on the scrapheap' because of MMC.
They said that doctors will be given 'just one 30 minute interview to save their careers', adding: 'Junior doctors and their families have been fighting this.
'Now, the system has descended into chaos.
'The National Director and the National Clinical Advisor of MMC have resigned. A legal challenge has been launched.
'The doctors destined for the scrapheap are the backbone of the NHS in hospitals.
'Although they are called "junior doctors'', they are very experienced.
'Most of those affected are Senior House Officers (SHO) – the grade you will see first and most often during a hospital stay.
'These are the doctors who resuscitate you if you have a heart attack, assess you in A&E if you have an accident, do your emergency operation in the middle of the night.
'How can the NHS lose thousands of skilled doctors overnight and still function?'
Rosemary Jackson, from Mums 4 Medics, told News Line: 'I think there should be mass protests from the public. It should be hitting all the papers.'
BMA member Justin Earl, an SHO at South West London and St George's Hospital Trust, told News Line: 'We feel bulldozed. I think everybody feels very angry.'
Anna-Louise Nicholls, paediatric SHO at Guy's and St Thomas's Trust, said: 'They're interviewing everyone. It's an unfair system. It's going to directly affect patient care.
'They said there was a shortage of doctors and now they don't have the jobs to give us.'
Dr James Fingleton, an SHO from Southampton, said: 'The government response has been utterly farcical. The statements of Patricia Hewitt and others have borne little resemblance to reality.'
Speakers at the rally included Labour MP Dr Ian Gibson, as well as spokesmen for the Tories and Liberal Democrats.
Gibson won loud applause when he called for the scrapping of MTAS.
'No one can justify what is happening to you,' he said.
'I know the panic that will ensue in August if this goes through as it is now. It will be an absolute calamity for the NHS.'
Dr Neel Burton said that the royal medical colleges had established a system of training that was 'the envy of the world'.
He added: 'For what purpose is this being carelessly dismantled behind closed doors, with so little consultation and transparency?'
Matt Jameson-Evans, co-founder of Remedy, said '13,000-14,000 doctors are facing career termination in the short-term. MTAS should be scrapped and never come back.'
A speaker from Mums 4 Medics, said this was a struggle 'for the survival of the health service.'