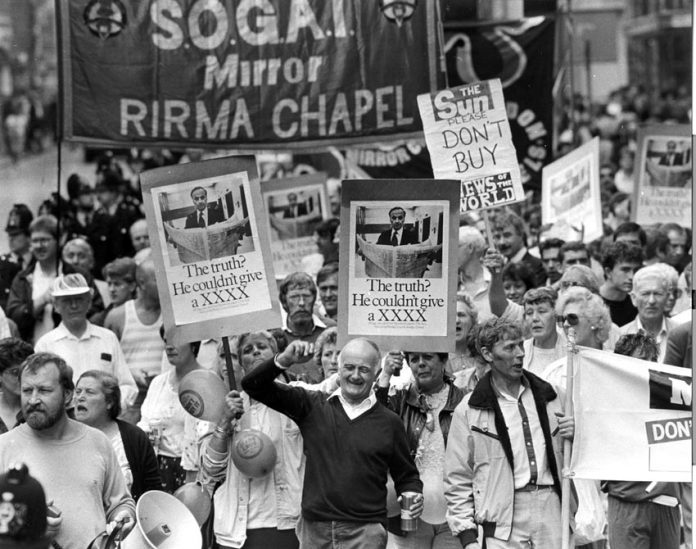 PRIME MINISTER Cameron announced a public inquiry into the News International hacking scandal yesterday, just before the Murdoch organisation announced that it was withdrawing its bid for BSkyB.
The inquiry will be led by Lord Justice Leveson, who will have powers to call media proprietors, editors and politicians to give evidence under oath.
In his statement to the House of Commons, Cameron said the inquiry would begin 'as quickly as possible' and would be in two parts – an investigation of wrongdoing in the press and the police and a review of regulation in the press.
Cameron said Leveson, assisted by a panel of senior independent figures, would be able to summon witnesses to give evidence under oath and in public.
In questions which followed Cameron's statement, Dennis Skinner MP said: 'The reason so many politicians of all parties are in his pocket is because he has the power through the newspapers.
'In answer to my right honourable friend's question just now, he (Cameron) said that he didn't want to strip Murdoch or anybody else of those titles.
'Will he then include in the terms of reference that the judge can if he so wishes say that nobody should have more than one title and nobody should have more than one TV station.
'Will he agree to that because without it this cancer on the body politic Murdoch will remain.'
Cameron replied: 'Of course the inquiry can go where it wants to go and follow the evidence where it leads. . . I don't agree with him that you can't have a responsible company owning a television license or a radio licence and also a newspaper.'
Labour MP Adrian Bailey said: 'Earlier in his responses to a prime minister's question the prime minister alluded to alleged lying to select committees.
'Given the fact that misleading select committees or refusing to turn up as a witness to select committees is contempt of parliament, but the last time criminal sanctions were invoked for anybody doing that was in 1666, can the prime minister undertake to bring forward emergency legislation to make contempt of parliament a criminal offence at the earliest opportunity.'
Cameron replied: 'I'll have to look closely at the issue the honourable gentleman raises. Perhaps it's something that the leader of the House . . . will be able to give him some satisfaction over.'
Tom Watson MP said the inquiry should look into the fact that 'rogue elements in the intelligence services have very close links to some people in News International.'
Earlier, at prime minister's questions, Cameron said a 'firestorm' was engulfing parts of the media and police, and those who had committed offences must be prosecuted.
Labour leader Miliband said it was an insult to the family of murdered schoolgirl Milly Dowler that Rebekah Brooks was still News International's chief executive.
Cameron responded: 'She was right to offer to resign, that resignation should have been accepted. There needs to be root and branch change at this entire organisation.
'What has happened at this company is disgraceful – it's got to be addressed at every level.'
Tom Watson MP asked him: 'Could I ask the prime minister to make urgent inquiries as to whether the families of the victims of 9/11 were similarly targeted by the criminals at News International and if they were, will he raise it with his counterpart in the United States?'
Cameron replied: 'I will certainly look at that.'
Shortly afterwards Murdoch's News Corporation announced that it is dropping its planned bid to take full ownership of satellite broadcaster BSkyB.
'We believed that the proposed acquisition of BSkyB by News Corporation would benefit both companies, but it has become clear that it is too difficult to progress in this climate,' said News Corp deputy chairman and president Chase Carey in a statement.
The Labour leader, Ed Miliband, called it 'a victory for people up and down this country who have been appalled by the revelations of the phone hacking scandal and the failure of News International to take responsibility'.
News International's legal manager Tom Crone, who primarily worked at the News of the World and on the Sun, has left the company.
In the US, Senate Commerce Committee chairman Jay Rockefeller called for an investigation into whether phone hacking targeted any American citizens and whether journalists working for News Corp had broken US law.