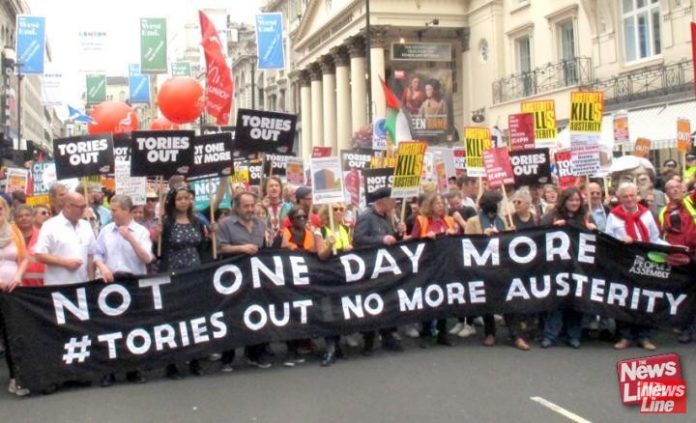 LABOUR's plan for a permanent customs union with the EU after Brexit can secure a Commons majority, shadow chancellor John McDonnell said yesterday.
He called the proposals in Labour leader Corbyn's letter to PM Theresa May a 'very traditional British compromise' to avoid a 'catastrophic no-deal Brexit'. He added: 'We believe that this is a deal that could fly within Parliament.'
In contrast to Mrs May's deal, Labour wants the UK to be a member of a customs union with the EU, with an agreement 'that includes a UK say on future EU trade deals' which would be handled by the EU, as well as close ties to the single market'.
May currently still insists that the UK would leave the customs union, which she says will allow it to strike trade deals around the world. The EU favours the Corbyn plan while the Tories say that they are looking at Labour's sell-out proposals 'with interest', adding that, 'There are obviously very considerable points of difference that exist between us. 'The PM continues to believe an independent trade policy is one of the key advantages of Brexit.'
The UK is due to leave the EU on 29 March when the two-year limit on withdrawal negotiations under the Article 50 process expires. Both the EU Commission and the Irish government will not agree to an open border between Eire and the north of Ireland if the UK leaves the EU without a deal. European Council President Donald Tusk, who says the Brexiteers should go to hell, also described Corbyn's letter as a 'promising way' out of the impasse, according to an EU source.
McDonnell told BBC Radio 4's Today programme: 'The prime minister has to accept that the only way she will get something through Parliament is a compromise like this.
'I think if Theresa May said, "I will sign up to Labour's deal" and we went to Parliament, I think we would have a secure Parliamentary majority.'
Conservative MP Sir Oliver Letwin was among those suggesting Corbyn's move could open the way to a cross-party consensus, if Mrs May could not get her deal through.
But Corbyn's position has upset some of the party's own backbenchers who are opposed to any kind of Brexit and insist on the UK remaining in the EU.
Owen Smith, who failed in his bid to topple Corbyn in a 2016 leadership vote, has said he and 'lots of other people' were considering their future in the party as a result'. Asked about Labour opposition to Corbyn's offer, McDonnell said 'not everyone's going to get everything they want' and MPs would have 'to compromise in the long-term interests of the country' – but denied it had effectively killed off the prospect of Labour backing another referendum.