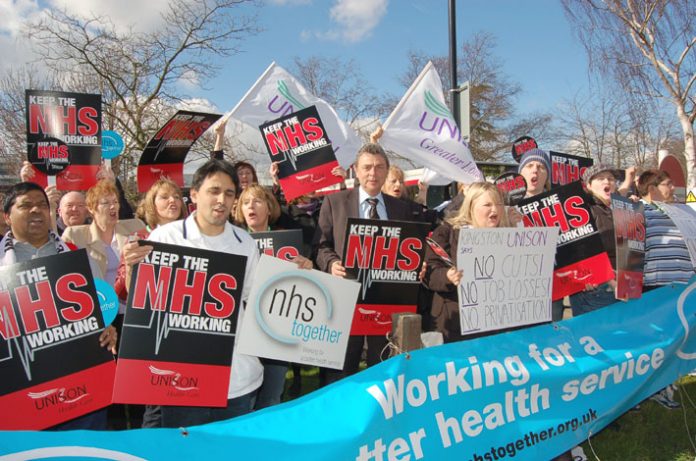 THE 'I LOVE THE NHS' march and rally is attracting widespread celebrity support from the world of music, sport, TV, comedy and literature.
The rally in Trafalgar Square on November 3rd is being organised by NHS Together, a unique alliance of 14 health unions and organisations set up to support and protect the NHS.
The November 3rd event is set to attract thousands of health workers and supporters from across the UK. The demonstration is to celebrate the successes of the NHS, which is 60 next year, and to send a hard-hitting political message to Government that there is no place for markets and competition in our health service.
The explorer and writer Sir Ranulph Fiennes is supporting the day. He said:
'I love the NHS because they saved me from certain death following a massive heart attack. Also, when my wife of 36 years was terminally ill with cancer the NHS, Exeter, looked after her diligently and with expertise and patience'.
Tamsin Greig, star of Channel 4's award winning medical comedy the Green Wing and Black Books, voiced her support saying:
'The National Health Service is a unique and invaluable organisation that puts life first. I and my family have only ever been treated with diligence, care and dignity, in life and death. It is a national treasure and should be valued and honoured as such.'
A giant screen in the Square will relay messages from NHS staff and patients. In addition the event has attracted support from TV and radio's comedian and 'grumpy old man' Arthur Smith and the band Four Kornerz
The band that wrote the theme tune to The Sopranos and described by the Guardian as 'the best live band in the country' – Alabama 3 will be in Trafalgar Square on the day to add their support to the event.
Comedians John Ryan and Windsor will compere the whole event and there will be comedy from Debra Jane Appleby and Marlon Davis.
Dave Prentis, President of the TUC said: 'The NHS treats over one million people every 36 hours. That is a tremendous achievement and that success is down to the dedication, professionalism and sheer hard graft of the staff who work in it.
'I know that I am only alive today because of the skill and expertise of those NHS staff.
'I didn't have to pay for that treatment and, like millions of people every day, I am grateful for that. The NHS is worth fighting for and I believe that November 3rd is a unique opportunity for health workers and patients to show their support.'