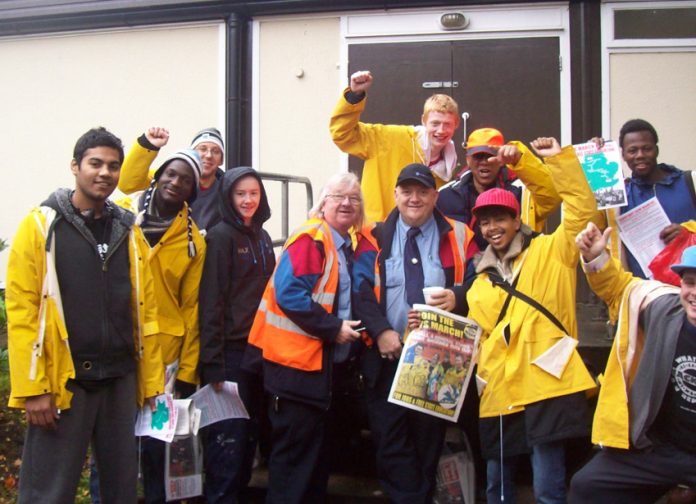 THE Young Socialists March for Jobs and Free State Education spent yesterday in Stockport, campaigning, recruiting and selling tickets for the Greet the March Trotsky Anniversary Rally in London on November 21.
The young marchers got great support.
Early on, they went to Stockport bus station, where they recruited bus workers and passengers.
Phil Peak, secretary of the Unite 48 branch at Stockport bus station, said: 'Our branch donated £50, along with the other branches in Manchester, making £200 in all.
'I think it's brilliant what you're doing.
'Not enough people stand up for working people.
'This government is appalling.
'There are people who have got very little and that little is being taken.
'The only way to respond is with a general strike.'
Bus driver and Unite member Rodney Garner said: 'I agree. I believe we need a general strike. Here's £3.00 to support your march. Good luck to you.'
Young passengers Fliss Totts, aged 16, and Harry Carter, aged 17, spoke to the marchers.
Fliss said: 'I'm joining the march. This government is rubbish. I think there will be a revolution.
'I think it's out of order people being told their jobs are being closed.'
Harry said: 'I'm 17 today and I'd love to join the march, but I have to go to work.
'This government has to go.'
On leaving the bus garage, the marchers split up.
One team recruited new members and got support in Stockport Town Centre, while another visited Stockport Fire Station and Stockport Further Education College.
At Stockport Fire Station, Green Watch invited the marchers in for a cup of tea and donated to their fund.
Nick Mottram, Fire Brigades Union member, said: 'Here in Stockport and all over the country, firefighters are in support of our London colleagues on strike today.
'What happens in London will come to us.
'We pride ourselves in looking after the public and ourselves as a national fire service with the highest possible standards.
'The attack on our conditions is an attack on the service we provide.
'The cuts in the budget means cuts in jobs. Really good luck to you all.
'It's a long way to London.
'There are going to be cuts in this brigade. This government has a four-year programme of cuts. It has to go.'
At Stockport Further Education College, the team recruited dozens of students into the Young Socialists.
Jade Moriarty, aged 18, a health and social care Level 3 student, said: 'I hate this government. They are taking away EMA (Education Maintenance Allowance) and other benefits next year.
'They're also badly attacking the NHS.
'The only reason we are on EMA is because our mums aren't on a decent wage.
'We have to fight this government and beat them.
'It's going to be an angry revolution.'
Emily Gregory, aged 17, another health and social care student, said: 'If they take the EMA away, I can't get to college.
'I think this march is a good idea.
'Kick this government out.'
Lydia Bell, aged 16, said: 'I want to care for older people.
'It's stupid to cut social services and young people need jobs. Let's kick this government out now.'
The team was invited to address a class of sociology students, who listened attentively to the call for revolutionary action and several of them joined the Young Socialists.
Then Young Socialist editor Paul Lepper addressed a packed student canteen, with more than 200 students there.
He stood on a chair and over the megaphone said: 'Now is the time for youth and workers to unite and fight and organise a general strike to kick the government out.
'Join us today. We are marching from here to Glossop tomorrow and then all the way to London.
'We are marching for jobs for youth and free state education. Join us.'
A new marcher joined the march on Sunday night.
Keith Owen said: 'I've joined the march because I think this is an historical moment and it's my contribution to a meaningful society.
'Before the recession started, our section of society was already facing issues, such as cutbacks.
'Working-class people are suffering and are not happy with their day-to-day lives.
'Up to now, middle-class people have been protected, but now their ideal world is unravelling. What we need is a revolution and socialism, an honest, decent society run by the working class.'
Today the march moves on to Glossop and tomorrow it's on to Sheffield.