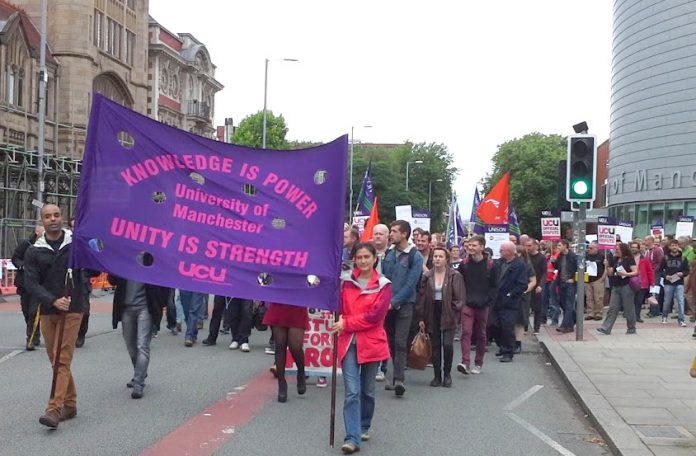 MEMBERS of the University and College Union (UCU) will walk out on strike on Monday and Tuesday against moves by the university to sack as many as 140 lecturers and staff.
The Labour shadow education secretary Angela Rayner has given her support to striking staff at the University of Manchester. Rayner said: 'I would like to express my solidarity and support to members of UCU at the University of Manchester. This is a concerning case, given the fact that UCU members feel as if management have not been clear, or provided any convincing rationale for job losses.
"The university has also claimed that it needs to create "financial headroom" in light of an uncertain climate for universities. This is not a convincing argument when it recorded a £36m surplus last year, and is also sitting on £1.5bn of reserves. I hope that management will get their house in order and give the UCU workers the respect they deserve.'
Staff will form picket lines at entrances to university buildings along Oxford Road from 7.30am on both Monday and Tuesday. There will be a rally at 11:30am on Monday at the University of Manchester Students' Union building on Oxford Road, where speakers will include UCU President, Joanna de Groot.
The strike follows a ballot that saw 87% of members who voted back industrial action, while 93% backed action short of a strike. They will then begin working to rule on Wednesday.
• The students union at UEA university in Norwich have taken a stand against plans by this Tory government to force universities to accept right wingers and Zionists onto campus with powers to slap large fines on them if they refuse.
A new regulator – the Office for Students (OfS) – has been created by the Tories with the power to slap large fines on universities it deems to have 'not upheld freedom of speech'.
Students are up in arms at the Tories' latest move with the Students' Union at Norwich's University of East Anglia (UEA) defiantly stating yesterday: 'This certainly won't stop students deciding not to invite someone to an event because they are proponents of hate speech.'
Similar moves in the US have allowed extreme right wingers to come onto university campuses which have then erupted into battlegrounds. Last month, Berkeley campus in California, resembled a war zone as the university spent an estimated $600,000 on security to allow extreme right-wing Zionist Ben Shapiro to speak amidst a mass protest in opposition.
Hundreds of protesters faced off with police in riot gear, while the university attempted to justify its action claiming it was 'defending the right to free speech'. In the UK, Johnson said universities should 'guarantee freedom of speech or risk facing action from new regulator, the Office for Students (OfS).'
Many students have said it has the power to stop student unions intervening in who speaks at universities. Johnson said his call came after examples of 'censorship where groups have sought to stifle those who do not agree with them'.
In November 2014, the students' union at UEA cancelled a visit from Steve Emmens, then the UKIP candidate for Norwich South, after more than 1,100 people signed a petition for it to be rescheduled off campus.