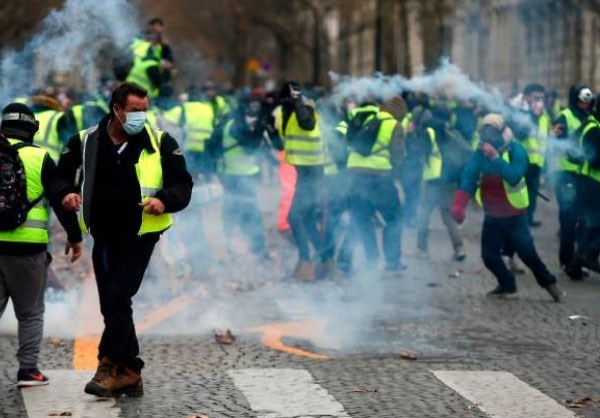 FRENCH President Macron has been forced to completely back down and abandon his hated fuel tax hike. Spurred on by their victory the 'Yellow Vests' protesters have planned major demonstrations for this Saturday that promise to grind Paris to a standstill.
Addressing the French National Assembly on Wednesday evening French Prime Minister Edouard Philippe announced that the government has removed the tax hike from the 2019 financial budget in a bid to show its 'willingness to talk'.
'Easing of tensions, dialogue, calmness and determination, are the terms I want to raise before the national representatives,' Philippe said. Far from demonstrations dying down at the news, yesterday more than 140 people were arrested at a single protest about proposed cuts to the school system.
The rally, in Mantes-la-Jolie in Yvelines, ended in clashes with police in front of a school, reports said. Dozens of other schools were blockaded in cities like Marseille and Paris. Saturday's planned rally of the yellow vests is set to be bigger than ever, with the French working class driven forward by Macron's retreat.
On the burning issue of Saturday's planned protest Prime Minister Édouard Philippe told the French senate that 'exceptional resources' would be deployed on Saturday in addition to 65,000 police officers. He warned that what the country is 'experiencing at the moment is not without danger for the security' of French citizens.
At the height of the protests last week 287,000 workers took to the streets clashing with over 5,000 police who fired first tear gas, sound grenades, smoke grenades and then blasted demonstrators off their feet with high-powered water cannon.