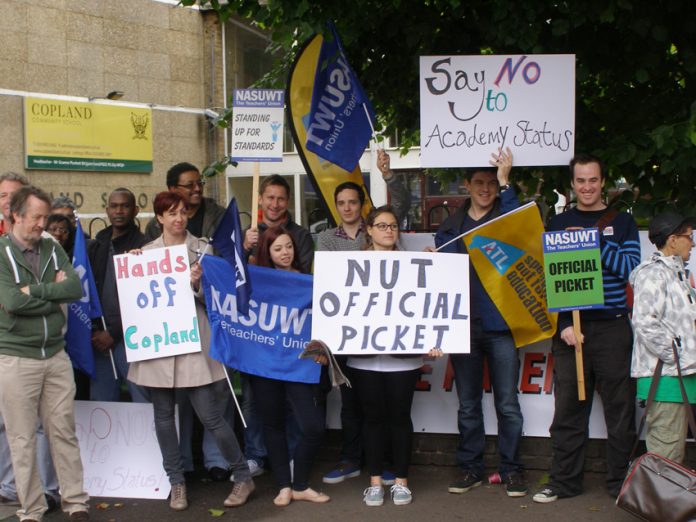 LABOUR yesterday delivered another stab in the back to workers, when two of its newly promoted shadow ministers hit out at the working class.
Shadow education secretary Tristram Hunt said that Labour is 'on the side' of parents who want to set up schools, and would not shut most existing free schools.
The slippery Hunt, a professional historian, who took over from Stephen Twigg last week, previously described free schools as a 'vanity project for yummy mummies' in 2010.
The opportunist Hunt now says he regrets those comments.
As recently as June this year, Twigg pledged that if Labour won the next election it would end the building of free schools and reassert local oversight of academy schools.
Yesterday Hunt claimed on the Andrew Marr Show that Labour's position on free schools had not changed and that while a future Labour government would not open new ones 'along the Michael Gove model', the bulk of existing ones would be kept open.
He said: 'We will keep the good free schools when we get into government.'
He said that a future Labour government would push ahead with what it calls parent-led academies in areas of educational need.
Hunt added: 'If you are a group of parents, social entrepreneurs and teachers interested in setting up a school in areas where you need new school places, then the Labour government will be on your side.
'We are in favour of enterprise and innovation.'
Hank Roberts, ATL immediate past president, told News Line: 'Academies and free schools are part of the plan by the government, backed by big business, to privatise state education.
'If Labour wants to get elected, it should come out and say it opposes this whole process and will not allow our schools to be run for profit, and all schools should be run with the involvement of local bodies, i.e local authorities.'
Another just promoted shadow minister, Labour's would-be work and pensions secretary Rachel Reeves also spoke up to reveal that Miliband has brought more right-wingers into his shadow cabinet.
She insisted that Labour will be tougher than the Tories when it comes to slashing benefits.
The former Bank of England economist, told the Observer: 'Nobody should be under any illusions that they are going to be able to live a life on benefits under a Labour government.
'If you can work you should be working, and under our compulsory jobs guarantee if you refuse that job you forgo your benefits, and that is really important.'
Reeves added: 'It is not an either/or question. We would be tougher (than the Tories). If they don't take it (the jobcentre offer) they will forfeit their benefit. But there will also be the opportunities there under a Labour government.'
Asked if she agreed with the government's £26,000-a-year benefit cap, she said she backed it, though she added that Labour would look at regional variations to reflect prices.
'I think it is right that those people who are in work do not feel that those who aren't in work are getting something that they couldn't dream of getting.'