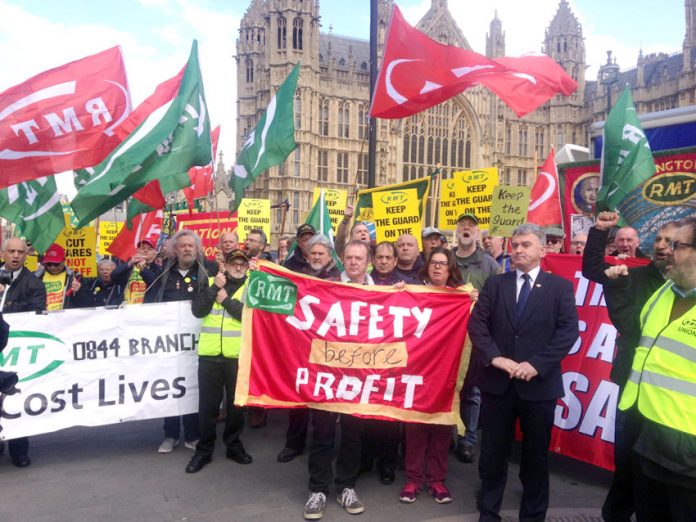 'DOO Has to Go!' chanted over 150 RMT members and their supporters from around the country outside parliament yesterday.
On the national demonstration to mark one year of the Southern rail guards strikes there were RMT banners from South East Regional Council, Watford Branch, South West Regional Council, Liverpool No 5 Branch, Bakerloo Branch, Central Merseyside Branch, Paddington No 1 Branch, Wigan Branch, North West Regional Council, Portsmouth Branch, Finsbury Park Branch and Lancaster District Branch.
There were also banners from the National Pensioners Convention and Disabled People Against Cuts (DPAC). RMT General Secretary Mick Cash told News Line: 'It's a magnificent demonstration to keep the guard on the train.
'For a whole year we've been campaigning for a safe railway. This government can solve the problem. The employers are being held back by the government. We've got deals with other companies; they can do it at Southern. RMT members are pulling behind our members in Southern. I'm proud of our members and our union.'
RMT southeast Regional Organiser Paul Cox said: 'It's a wonderful demonstration to let this government know people care about their railways and want to keep them safe. They should drop driver only operation (DOO). It's unsafe and the public doesn't want it.' Calling for a Labour government, Cox added: 'Jeremy Corbyn said he would renationalise. He said if he were Southern rail he would be deeply worried about a Labour government.'
Andy Gregory of Wigan RMT said: 'We're here to support the national demonstration to protect rail safety. Having a national dispute is difficult because of the danger of sequestration over secondary action.
'The union needs to remain extra vigilant on the issue of DOO. On June 8th we want to see the end of the Tories. We want a Labour government and for Jeremy Corbyn to keep his promise and return to nationalisation of the railways.'
Bolton RMT Branch Secretary Micksu Paatailaanen, said: 'I want to get some proper negotiations. I'd like to see ASLEF out on strike again. ASLEF Deputy General Secretary Tosh McDonald has gone quiet. We need the ASLEF leadership to respond with the RMT and bring an equitable deal. We have common cause for ourselves and the public. Nationalisation is the way forward for a safer railway.'
• The RMT confirmed yesterday that a 24-hour strike on Arriva Rail North tomorrow, Friday, 28th April, goes ahead after the company failed to offer any progress at all in further talks this week over the guards' and drivers' safety dispute.