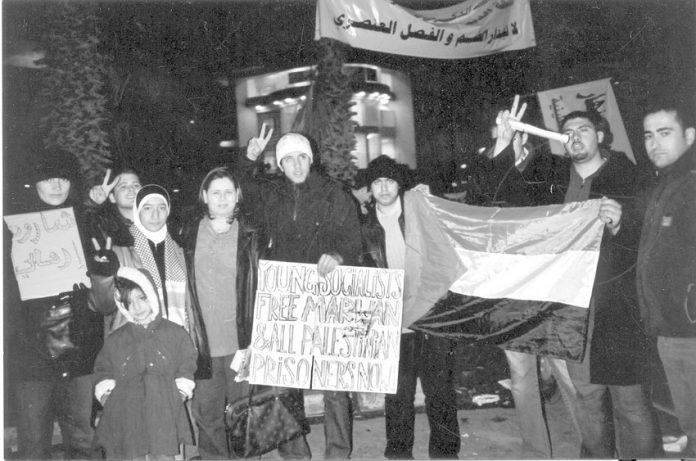 IMPRISONED Palestinian parliamentarian and Fatah leader Marwan Barghouthi, who has been leading a large-scale hunger strike in Israeli prisons, has suffered a serious deterioration in his health after forgoing food for eight days.
Palestinian Committee of Prisoners' Affairs chairman Issa Qaraqe said that Barghouthi is suffering from a severe drop in blood pressure and blood sugar levels. According to the media committee covering the 'Freedom and Dignity strike' – created jointly by the Palestinian Committee of Prisoners' Affairs and the Palestinian Prisoner's Society – Barghouthi has refused to take medicine from Israel Prison Service (IPS) authorities in al-Jalama prison in northern Israel.
The warden of al-Jalama asked fellow Palestinian prisoner Nasser Abu Hmeid to convince Barghouthi to take the medicine but Abu Hmeid refused, reportedly saying that 'if Marwan Barghouthi dies, he will die a martyr.'
IPS then punished Abu Hmeid by transferring him to Eshel prison. IPS spokesperson Hana Herbst claimed that 'as far as I know, there is no significant change in the medical conditions of any of the prisoners on hunger strike.'
'Nonetheless, the decision to go on strike is personal and any prisoner who feels unwell can end it by choice,' Herbst added. However, Issa Qaraqe said the number of prisoners joining the hunger strike is expected to increase. The media committee said the strikers are demanding the restoration of rights which have been taken away by the occupation prisons administration, which they had already won through many past strikes.
The prisoners are demanding to be moved to jails in the occupied territories as per the Fourth Geneva Convention, which would make it easier for their families to visit, as well as lifting restrictions on family visits and better treatment at military checkpoints.
Other demands include: An improvement of access to medical care; increasing visit duration from 45 to 90 minutes; families of women prisoners to meet without glass barriers to allow mothers to hold their children; an improvement in detention conditions including easing restrictions on the entry of books, clothing, food and other gifts from family members; restoring some educational facilities.
Demands also include installing phones to enable prisoners to communicate with their families, as well as ending Israel's widespread use of administrative detention – internment without trial or charges – which is only permitted under international law in extremely limited circumstances.
Qaraqe said on Monday that at least 1,580 prisoners had joined the strike, adding that 25 Palestinians detained in Ramon prison in Israel joined the strike on Monday. The media committee, meanwhile, said that 40 detainees in Megiddo prison and 20 detainees in Ramon prison joined the hunger strike on Sunday.
Qaraqe said that he could not confirm Israeli media reports that Hamas-affiliated prisoners had ended their hunger strikes on Sunday because lawyers had not been allowed to visit the prisoners; and he also cautioned media outlets 'to avoid rumours spread by the occupation in an attempt to shake the hunger strikers' determination.'
The media committee also noted that Israeli authorities have continued to deny the vast majority of hunger strikers access to their lawyers, despite a decision made last Wednesday by the Israeli Ministry of Justice saying that it is illegal to ban prisoners from accessing their lawyers, and have maintained a freeze on family visits.
Only five hunger-striking prisoners, all in the Ofer prison in the occupied West Bank, have had access to their lawyers as of Sunday. Meanwhile, Palestinian lawyers have boycotted Israeli courts for at least four days in protest against the repressive measures carried out against the hunger strikers, the committee added.
Israeli authorities have cracked down on Palestinian prisoners since the beginning of the strike, notably placing scores of them in solitary confinement, or dispersing them throughout Israel's network of prisons to separate hunger strikers from each other. Qaraqe said on Monday that Israeli authorities had transferred all 20 remaining Palestinian prisoners held in Hadarim prison to the Ktziot detention facility.
It claimed that all 20 were sick and not on hunger strike, after 100 hunger-striking prisoners were transferred out of the detention centre last week. 'We don't know if the Israeli move to empty Hadarim completely is part of a plan to create a field hospital there for hunger strikers, or to move in prisoners from other prisons,' Qaraqe said.
The IPS has also raided prisons, seizing personal belongings, and preventing hunger strikers from praying, accessing prison yards, or watching TV. The media committee said on Monday that IPS guards had also reduced hunger strikers' access to prison commissaries.
Palestinian prisoners solidarity network Samidoun corroborated reports that that prison guards had barred access to commissaries, where the hunger strikers have been buying salt and bottled water – the only nourishment they are allowed to consume as part of the strike.
Meanwhile, Qaraqe said that hunger strikers had also begun to refuse standing up during daily head counts, as another symbolic move of defiance. Events continued across the occupied Palestinian territory in solidarity with hunger strikers, while Samidoun reported that demonstrations would occur in the United States, Greece, and South Africa on Monday.
Samidoun added that Georges Ibrahim Abdallah – a prominent pro-Palestinian Lebanese fighter who has been detained by France for more than 30 years – is staging a three-day hunger strike in solidarity with Palestinian prisoners along with others imprisoned in the French prison of Lannemezan.
Speaker of the Arab Parliament, Mishaal bin Fahm Al Salami, has expressed full solidarity with the Palestinian prisoners in Israeli jails who launched an open-ended hunger strike eight days ago. Al Salami"s comments came during the meeting of the second legislative term of the Arab Parliament at the headquarters of the General Secretariat of the League of Arab States in Cairo on Monday.
He stressed that the Israeli violations against the Palestinian prisoners must stop, dubbing the meeting as: 'The session in solidarity with Palestinian prisoners.' Some 1,580 prisoners have so far joined the open-ended hunger strike which was launched on Monday April 17 to demand better prison conditions and treatment. The Speaker condemned Israel's settlement expansion which challenges the resolutions of the United Nations and international legitimacy.
He called for the reviving of the peace process in accordance with the resolutions of the international legitimacy as well as the Arab Peace Initiative to enable the Palestinian people to retrieve their full rights and build their own independent state with East Jerusalem as its capital.
Israeli authorities have detained approximately one million Palestinians since the establishment of the state of Israel in 1948 and the subsequent occupation of the West Bank, East Jerusalem, and the Gaza Strip in 1967, according to a joint statement released last week by Palestinian organisations.
According to prisoners" rights organisation Addameer, some 6,300 Palestinians have been held in Israeli custody as of March 2017.