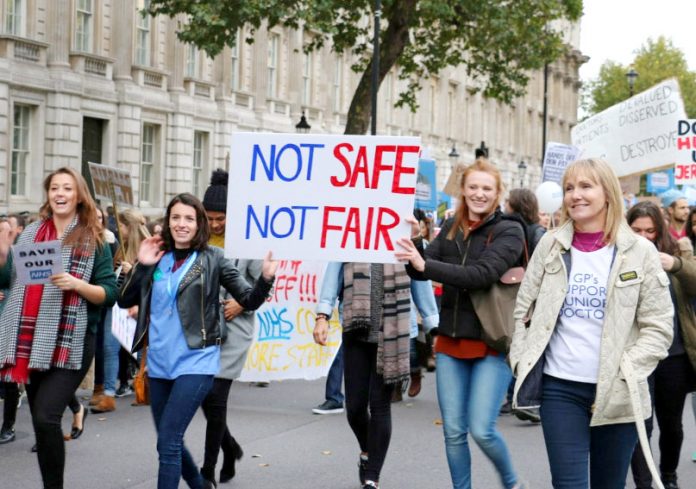 JUNIOR doctors will strike next Tuesday after talks with the government broke down at 4.45pm yesterday afternoon.
The BMA said in a statement: 'Junior doctors in England are set to take to industrial action next week Tuesday, 12th January after talks between the BMA and NHS Employers failed to reach an agreement. This comes after the government's continued failure to address junior doctors' concerns about the need for robust contractual safeguards on safe working, and proper recognition for those working unsocial hours.
'Unless progress is made on these key areas, the 24-hour action, during which junior doctors will provide emergency care only, will be followed by a second, 48-hour period of emergency care only beginning on 26 January and a third day of action on 10 February, which will see a full withdrawal of junior doctors' labour between 8am and 5pm.
'In November, in a ballot of junior doctors, 98 per cent voted for industrial action in response to the government's attempt to introduce an unsafe and unfair contract. Despite this overwhelming mandate, the BMA sought conciliation talks through Acas – talks that were initially rejected by Jeremy Hunt – which led to action being temporarily suspended to allow further negotiations. Despite weeks of negotiations, talks have failed to reach agreement.'
Commenting, Dr Mark Porter, BMA council chair, said: 'Throughout this process the BMA has been clear that it wants to reach agreement on a contract that is good for patients, junior doctors and the NHS. This is why, despite overwhelming support for industrial action, the BMA instead sought conciliation talks with the government, talks which were initially rejected and delayed by Jeremy Hunt.
'After weeks of further negotiations, it is clear that the government is still not taking junior doctors' concerns seriously. Furthermore, the government has repeatedly dragged its feet throughout this process, initially rejecting our offer of talks and failing to make significant movement during negotiations.
'We sincerely regret the disruption that industrial action will cause, but junior doctors have been left with no option. It is because the government's proposals would be bad for patient care as well as junior doctors in the long-term that we are taking this stand.'
• Nursing students have called on all junior doctors, NHS workers, students, and youth to join their national 'Save NHS Bursaries' demonstration, on Saturday 9 January. Meet at St Thomas Hospital, Westminster Bridge 12 noon.
Student nurses are demanding that their bursary is reinstated so that they are able to complete their university studies without becoming over £50.000 in debt on graduation.