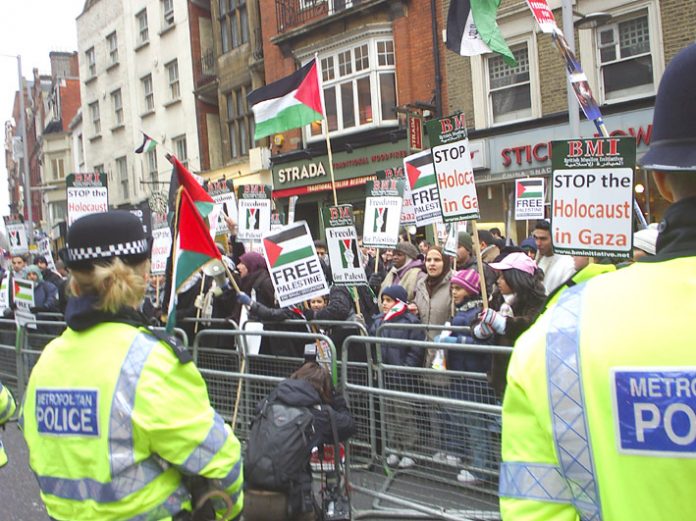 Fifteen Palestinian civilians were killed yesterday and at least 40 others were wounded when Israeli shells hit Gaza City shopping centre.
Among those killed by the Israeli air strike were a mother and her four children in Wadi At-Tuffah in Gaza City.
Gaza City has been surrounded after a column of 150 Israeli tanks and Amoured Personnel Carriers, along with thousands of troops, stormed into northern Gaza under cover of darkness on Saturday night.
Five more civilians were killed in Beit Lahiya refugee camp as they tried to run for cover and eight others were killed in northern Gaza.
Tanks were firing howitzer shells at the rate of two every minute yesterday.
More than 500 people have now been killed since Israel began intense airstrikes on 27 December. Gaza medical officials put the number of wounded at 2,250 over nine days.
Fierce fighting has been taking place in the Jabaliya refugee camp and Hamas forces said they have captured two Israeli soldiers.
Al-Qassam Brigades, the armed wing of Hamas, said that its fighters had inflicted heavy casualties on the invading Israeli Occupation Forces in the east and north of the Gaza Strip, affirming that it managed to kill more than five Israeli soldiers and wound about 30 others.
At least one Palestinian was killed while taking part in a West Bank demonstration in support of Hamas.
The Strip has been cut in two and patients from northern Gaza are unable to get into southern Gaza where the hospitals are.
Doctors had to amputate both legs and the arm of a child, said Mads Gilbert, a Norwegian doctor in Gaza.
'The whole healthcare sector in Gaza was on its knees in the beginning of December already,' Gilbert said.
He added: 'It's like Dante's Inferno. It's like hell here. They are bombing 1.5 million people in a cage.
'Anyone who is trying to portray this as a war between two armies is telling lies.
'This is a war on the Palestinian people. This is an all-out war against the civilian population of Gaza.'
Injured people are in the streets and the ambulances are not able to reach them, said Dr Wael Qadan of the Palestinian Red Crescent.
'Gaza has been divided into three parts in which there is no way to move between the three parts,' he added.
'Transferring of the humanitarian aid as well as health needs are not able to be met in Gaza.
'A lot of people are not being reached because of the shelling of central Gaza,' he continued, saying that even private cars are being prevented from reaching casualties.
'A lot of people are staying in their houses. Gaza is the most crowded city in the world,' said Dr Qadan.
'When the Israelis are shelling their houses, where can they go? Nowhere is safe and secure.
'People are sitting in their houses and waiting for the bombardment from the airplanes. Hundreds of houses are affected.
'More civilians, more women, more children, are dying as a result of this bombardment.'
Dr Abdullatif El-Haj said the European Hospital in Gaza had been trying its best to treat victims of the shelling by F16 Israeli jets.
But he said: 'Most of the staff could not come to the hospital from Rafah.'
He added that, 'Most of the senior surgeons living in Gaza City could not come because the Israelis cut off the main road to Gaza and other roads are also under fire.
'We have a shortage in ICU beds. Beds are very limited in number and also the electricity is cut. It is a very dangerous situation.'