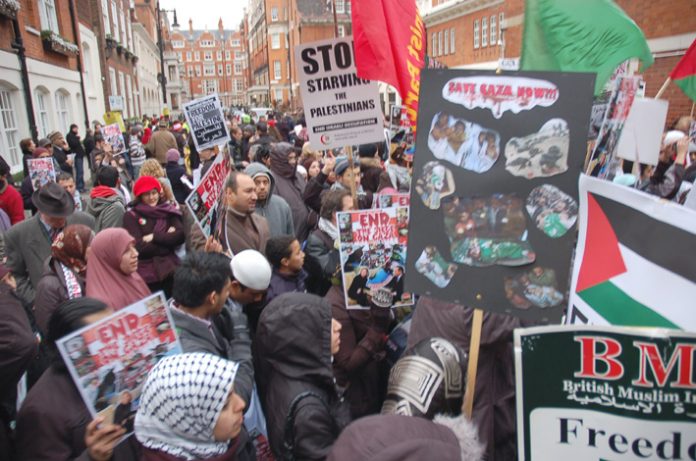 THERE was no lull in the Israeli air strikes on Gaza yesterday.
Three young brothers – Iyad, Mohammed and Abdelsattar al-Astal died in a raid that targeted their house near the city of Khan Younis.
At the same time, 450 foreign passport holders left the Gaza Strip through the Erez crossing near Beit Hanoun early yesterday.
The move was taken to be an indication that Israel is on the brink of launching its threatened ground invasion of the Strip, spearheaded by the mass of tanks on Gaza's borders.
Palestinian officials said that those leaving are Palestinians with foreign passports and internationals married to Palestinians, who are leaving with their children.
Five Children and two adults were killed in Israeli air strikes on Gaza since midnight local time Thursday, bringing the death toll to 427 and the injured to 2,220.
A mosque in the northern town of Jabaliya that the Israeli military claimed was a 'terror hub' used to stockpile weapons, was also hit.
Among the other strikes reported yesterday were – • 2:15pm (local time) Three were killed in an air strike on Al-Qarara village in southern Gaza.
• 2:00pm Shells landed on the home of Hamas' Al-Qassam Brigades leader in the central Strip.
• 1:15pm 20 year-old Fadi Shebat was killed in Israeli shelling at Bet Hanoun.
• 1:00pm six-year-old Christine At-Turk and 15 year-old Hammad Mesbeh were killed by Israeli shells in Gaza City.
• 12:00pm Shells fall on Der Al-Balah in the central Gaza Strip.
• 10:30am One dead, several injured as Israeli missiles land on homes in Jabaliya, in the northern Gaza Strip.
The Israeli military leadership singled out civilian homes in each neighbourhood of Gaza and announced to residents that the building will be shelled.
Thousands have left their homes after the start of the strikes and the psychological warfare, but many have now returned since all their 'safe places' became targets.
Thousands attended the funeral of Nizar Rayyan, the senior Hamas leader who was killed with his wife and 14 children in another Israeli raid on Thursday.
'I call on the resistance to continue pounding Jewish settlements and cities,' said Sheikh Abdelrahman al-Jamal. 'We will remain on the path of jihad until the end of days.'
Demonstrations and rallies across the Arab and Islamic world took place in support of Gaza as Palestinians in the West Bank and the Strip responded to Hamas' call to mark a 'Day of Wrath' over Rayyan's death.
Thousands of Israeli riot forces were mobilised in the West bank and erected several roadblocks around the Al-Aqsa mosque.
Thousands of Palestinians demonstrated in the West Bank city of Ramallah.
'We will sacrifice our soul and our blood for Gaza,' chanted the demonstrators, shouting out pro-Hamas slogans and calling on the resistance fighters to 'hit Tel-Aviv'.
• British telecommunications firm FreedomCall has terminated its cooperation with Israel's MobileMax due to the Israeli military operation in Gaza.
'We received an email from the British company informing us that it is severing all ties with us and any other Israeli company following Israel's strike in Gaza,' said MobileMax CEO Raanan Cohen.
'We weren't expecting this from them and there was no prior warning. I don't intend to appeal to them or answer the letter.'
The email from FreedomCall said: 'As a result of the Israeli government action in the last few days we will no longer be in a position to consider doing business with yourself or any other Israeli.'
This is an example that must be followed.
• EGYPTIAN EMBASSY PICKETED BY PALESTINIANS
'OPEN Rafah Border, Open Border Now!' more than 500 angry demonstrators shouted outside the Egyptian Embassy in Mayfair, central London yesterday. 'Hosni Mubarak, You are a Pharoah! Hosni Mubarak, You are in Big Trouble! Hosni Mubarak, You are Outside God's Mercy!', they shouted.
Student and young mother, Safa Salama told News Line: 'We are here today to deliver a message that the Egyptian regime is helping Israel to kill us. I'm Palestinian myself. By closing the borders they are preventing aid from reaching Palestine.
'Livni (Israel Foreign Minister) was in Cairo the day before the bombing of Gaza began last Saturday. It means they gave permission for that. I call for the British trade unions to stop all trade between Britain and Israel.'
Abdalla Dirbji, a student, said: 'The gates to Palestine like Rafah and the other gates are closed. That's why our brothers are dying. Mubarak will not open the border because he is controlled by his US policy-masters.'
Student Omar said: 'The Egyptian and Saudi governments and all the Arab leaders are helping the enemy.'
Fellow student Ali said: 'They're discussing oil prices when women and children are being murdered in their beds. The Arab masses must overthrow these regimes. Here, we must organise a complete boycott of Israel: an official one, that bites.'
Student, Mohamed Fadhil said: 'Israel think they can do what they like and the Egyptian government is helping them. They should take a stand.'
Rashid, holding a picture of Mubarak with a shoe attached, said: 'Since the action of the Iraqi journalist Zeidi, the shoe is a symbol for anyone to express anger. Mubarak deserves the shoe. Zeidi's shoes are now a symbol of the Arab revolution. They will be used to remove all those who try to mislead.'
Student Sadiq Abdul Jabbah said: 'We're here to show our disgust at Pharoah Mubarak. He's a tyrant who rules with an iron fist. He's the enemy within who sanctions torture of men and women in his prisons. It is well known that he is a proxy of the US. It is the obligation of all Muslims to overthrow him.'