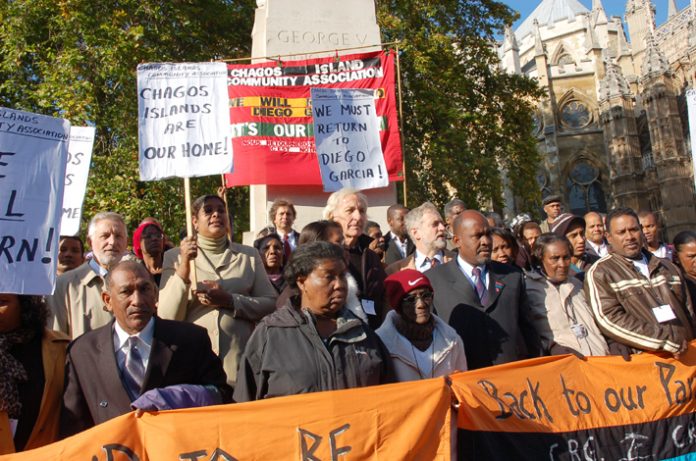 'WE WILL return to the Chagos Islands – it's our right!', 'We will return to Diego Garcia – it's our right!' shouted more than 100 Chagos Islanders and their supporters, as they marched from the House of Lords to a picket outside Downing Street yesterday.
Their angry demonstration followed a 3-2 majority Law Lords judgement overturning three previous court rulings upholding their right to return to their islands in the Indian Ocean, from which they were evicted by the British government in the 1960s.
A giant US military base is now situated on the main island, Diego Garcia, which has been used for secret rendition and torture of US captives and to bomb countries like Afghanistan and Iraq.
Two Law Lords, Lord Bingham and Lord Mance, voted to uphold the Chagossians' rights to return, but three others – Lord Hoffmann, Lord Rodger and Lord Carswell – returned a majority decision in favour of the British government.
Their majority decision goes against all previous judgements, that denying the Chagossians the right to return to their islands is a breach of their fundamental rights.
Chagos Islanders immediately marched to Downing Street, where Hengride Permal, chairwoman of the Chagos Islands Community Association, handed in a letter demanding Prime Minister Gordon Brown meets all the Chagossians' representative groups about returning them to their island homes.
After listening to the judgement in the House of Lords yesterday morning, Olivier Bancoult, chairman of the Chagos Refugees Group, told News Line: 'We have to continue, but what is needed is consideration with all our legal team and our people about what we will do, our next step.
'But we will not give up as far as our fundamental rights are concerned.'
He added: 'Of course, we are very disappointed.
'We had three judgements in our favour and now the House of Lords has refused this.
'Is there a different treatment about human rights concerning some people and others?' he asked.
Journalist John Pilger, whose documentary film 'Stealing a Nation' helped bring the plight of the Chagos Islanders to national and international attention, said: 'The way Court of Appeal judges described the denial of justice for the Chagossian people was "illegal, outrageous and repugnant'' – and I would call this ruling the same.'
Senior GMB trade union organiser Paul Maloney said: 'The whole of the labour and trade union movement has to show its disgust at today's verdict.
'There has to be a major demonstration in London, whether it be in Trafalgar Square, a march to Downing Street or on parliament.
'We have to show our support for the Chagossian people and our determination to win them justice.'
Joni McDougall, GMB international solidarity officer, said: 'Animals get better treated in this country. I'm absolutely stunned by the verdict.'
Chagossian Lucette Martin said: 'It's bad news for us. I'm so sorry for all of us. It makes me so angry.
'We have been fighting for 40 years to return back to our islands, now we will have to fight even harder.
'They wouldn't let us inside the hearing. Only one person was allowed in.'
Suzette Baptiste said: 'I came here from Mauritius on Tuesday with a delegation of nine people to hear this verdict and I am very angry because it is a long time we have been fighting.
'We will fight on. We will continue our struggle. We will never give in.'
Hengride Permal told the crowd outside parliament: 'This is a very sad day, but we won't give up.
'It has been over 40 years now. We know that with your support one day we will claim victory.'
'We are going to Downing Street now to drop off a letter to Mr Gordon Brown asking him to meet us and find a solution.'
Hayes and Harlington Labour MP John McDonnell told News Line: 'This is a disgraceful decision that flies in the face of all human rights and common decency.
'We will continue to fight for their right to return.
'We need support right across the labour and trade union movement.'