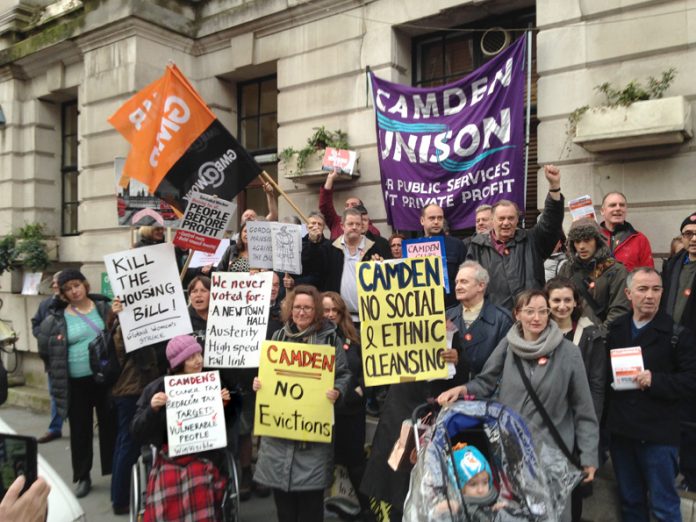 'HANDS off our Homes!' shouted over fifty trade unionists and youth at a lobby of Camden Town Hall, Judd Street, in north west London on Monday evening.
Protesters carried placards saying 'Kill the Bill', 'Camden No Evictions' and 'Camden No Social & Ethnic Cleansing' beneath Camden Unison Branch banner and GMB union flags.
Brigid Falconer, a social worker in Camden's mental health service, told News Line: 'Professionally, the biggest issue for people is housing. It's hard for anyone to get into a hostel in Camden. At the end of it they are usually being moved into private rented places, often out of the borough.
'It's even worse for families and the Housing Bill would make it ten times worse. We need action by the trade unions. They should strike against the cuts all together and against the way our society is being changed.'
Waltham Forest NUT member Bill Mitchell said: 'What we really need is full union support across the whole spectrum in dealing with issues of inequality. This Housing Bill is one of them. They should be moving towards a general strike. I'll join the TUC lobby on April 27th.'
Young charity worker Lisa Atamian added: 'I live in social housing in Camden on an intermediate rent. Basically, with the Housing Bill I don't know whether I'll be able to stay in my flat.
'The information the government has given is really poor and confusing. The situation is really scary. The council should be looking after people. The whole situation seems to be spiralling out of control.
'The trade unions should take strike action over housing, to support the junior doctors and defend the NHS. If a general strike is what has to be done, then so be it.'