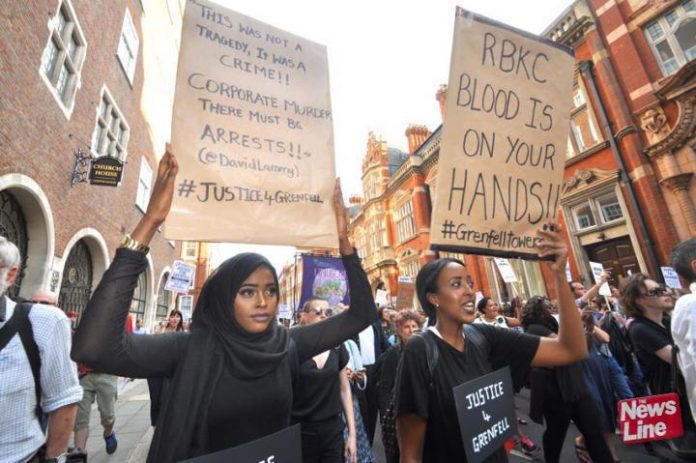 ONLY a fraction of the donated £20 million has reached the survivors and families of the victims of the Grenfell Tower tragedy which claimed the lives of well over the official figure of 80 men, women and children.
Meanwhile, a mass protest outside the first full meeting of Kensington and Chelsea council has been called for 6.00pm tonight outside the town hall. Relatives of victims, survivors and local residents alike are furious at decades of neglect and mistreatment of working class people in the area.
More than 170 tonnes of physical donations like clothes, sleeping bags and bedding were donated by concerned members of the public in the wake of the tragedy. But to date, only 10 tonnes – less than 6% – of those donations have been distributed to those affected by the fire.
Out of the £20m donated after the Grenfell Tower tragedy, just £800,000 has so far been dished out to relatives and survivors. Charities claim that it is the sheer logistical challenge which is 'really off the scale', and that the sheer volume of items donated means that only brand new items are being given direct to residents.
However, the same cannot be said about the cash, with residents rightly questioning why it is being leaked so slowly. The Justice for Grenfell campaign said: 'The disastrous fire at Grenfell has resulted in an as yet unconfirmed number of fatalities but we know the official figures currently used don't hold up to public scrutiny.
'The lives of countless families have been wrecked but Grenfell survivors and the wider community are still being treated with utter contempt. The councillors responsible for this chaos and tragedy must go!'
The government have only pledged £5,500 in emergency funds for every household who lost their home. However, very few families have received their £5,500. Kensington and Chelsea is London's richest borough, but is one of the places with the biggest gap in life expectancy in the UK, as has been widely reported following the Grenfell Tower fire.
The richest people in Kensington and Chelsea live 16 years longer than the poorest. This is because of so-called social determinants which cover factors such as housing, education, working conditions and poverty.