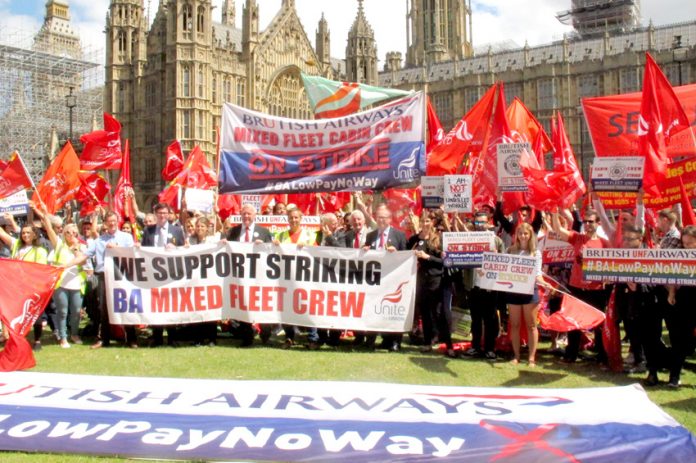 PILOT representatives from the European Cockpit Association (ECA) and the Air Line Pilots Association (ALPA) have voiced concerns about British Airways' (BA) use of aircraft and crews from Qatar Airways to fill gaps in BA's schedule caused by a long-running industrial dispute at the UK national carrier.
Since late 2016, BA has been embroiled with its Mixed Fleet cabin crew in a row over pay and allegations of sanctions against strikers. Throughout the dispute, BA has kept the bulk of its schedule operating, but in recent weeks has brought in nine Airbus A320s from fellow oneworld alliance operator Qatar Airways to keep its timetable running.
Qatar Airways is understood to have spare capacity following its diplomatic rupture with several neighbouring states, which has led to destinations in those states being barred to the Qatari airline. ECA represents pilots from throughout the continent.
Commenting on the lease of the Qatari aircraft, ECA president Dirk Polloczek said this 'is being used by British Airways in order to undermine the lawful collective action of a group of BA flight attendants who are trying to improve their wages and working conditions.
'It is important to understand what is happening here. Under the arrangement, the Qatar crew will be employed under Qatar law and under Qatar employment contracts. There was no meaningful examination of the effect of the lease of the non-European Union aircraft and crew on the ability of BA's flight attendants to exercise their lawful collective rights or on their employment conditions.
'Qatar receives massive state subsidies from its government. It is essential that the (European) Commission and the UK government assess the consistency of the lease with EU and UK laws and consider the effect of the lease on the employment rights of EU workers now and in the current legislative process dealing with this issue.'
US pilots union ALPA supported the ECA stance, saying in a statement: 'This lease is completely inconsistent with the notion that government action should not benefit one party to a labour dispute. If a US airline attempted to do the same, it would be denied, as US regulations require that an analysis be conducted to determine if the leasing of foreign aircraft by a US airline would give an advantage to a party in a labour dispute.
'ALPA opposes the use in the US market of any non-EU leased aircraft by an EU airline in order to undermine legal collective bargaining. We urge the EU and the United Kingdom to harmonise upward their leasing rules and require an analysis similar to that made by the United States.'
On June 30, the UK regulator, the Civil Aviation Authority (CAA), said BA's request to temporarily wet-lease the Qatar-registered aircraft had been approved by the UK Department for Transport. The CAA said: 'The decision to approve the application took into account the advice of the Civil Aviation Authority.
'Under European regulations, specific approval is required for an EU airline to wet-lease aircraft from an airline based outside of Europe. The application was judged to meet all legal and regulatory requirements.'
• UK low-cost carrier (LCC) easyJet has applied for an air operator's certificate (AOC) in Austria as the carrier faces uncertainty about being able to continue flying in the European Union (EU) after Brexit. The new airline, easyJet Europe, would be headquartered in Vienna.
Currently, EasyJet's network depends heavily on EU route rights. An EU AOC would safeguard easyJet's network, should the UK and EU fail to agree on a new air transport accord before the UK exits the EU.
EasyJet said that with the new company structure, the carrier should become a pan-European airline group with three subsidiaries, which will be registered in Austria (easyJet Europe), and include existing easyJet Switzerland and easyJet UK.
An easyJet source has said the application process is far advanced and the carrier hopes the certification will be granted in the near future. The unnamed official said: 'There is no doubt that this AOC will be granted by Austrian authorities.'
The carrier said the decision to choose Austria has been based on the fact that Austro Control follows a strict course of implementing safety directives, which are fully in line with the path set by the European Aviation Safety Agency (EASA) toward more performance-oriented security.
This EU AOC is essential for easyJet as half of 75 million passengers annually come from the EU-27 member states. EasyJet has based 100 Airbus A320 aircraft and 4,000 employees in six EU member states.
Once easyJet Europe is certified, up to 110 aircraft deployed for EU operations will be registered with an OE Austrian code. EasyJet has also based 25 aircraft and 950 employees in Switzerland, and 140 aircraft and 6,000 employees in the UK.
The aircraft re-registration process should be completed over two winter seasons to secure flight operations. EasyJet said this process must be completed before Brexit takes effect. EasyJet said it will establish several new jobs in Austria, but will not transfer any positions from the UK to Austria.
EasyJet has operated flights from Austria for 11 years. So far in 2017, the carrier has transported one million passengers from four airports in Austria to 20 European destinations. EasyJet said it will continue to seek an air transport agreement between the EU and the UK, which will at least allow flights between the UK and the EU. The carrier flies over 260 aircraft on more than 870 routes to over 138 airports across 31 countries.
The Unite union, which represents the BA strikers, has said UK must reach an agreement securing freedoms for UK airlines to fly to Europe as a matter of urgency in Brexit negotiations. The call from Unite, which represents over 65,000 workers in the airline industry, follows news that easyJet is to open a new European headquarters in Austria to operate flights within the EU after Brexit.
It comes amid warnings earlier last week that British Airways' owner, International Airways Group, may be at risk of being broken up after Brexit if a deal isn't struck on ownership requirements. For an airline to operate routes within the EU, it must demonstrate that it is effectively owned and controlled by EU nationals, with at least 50% of its shares held by EU nationals.
'This poses a problem for UK airlines after Brexit, when their UK shareholders will no longer be classed as EU shareholders,' Unite warns. Unite general secretary Len McCluskey said: 'The UK airline industry is inextricably linked with its European counterparts and critically has the freedom to fly within Europe through the open skies agreement.
'A failure by the UK government to urgently secure an early agreement and deal with ownership requirements risks damaging our world leading airline industry and the tens of thousands of livelihoods which rely on it.
'Unless the UK government gets a grip, we could well see more UK based airlines being forced to set up headquarters in the European Union in a move which would ultimately hurt jobs. Government ministers need to secure the freedom for UK airlines to fly in Europe as a matter of urgency to ease job fears and stabilise confidence in our airline industry.'