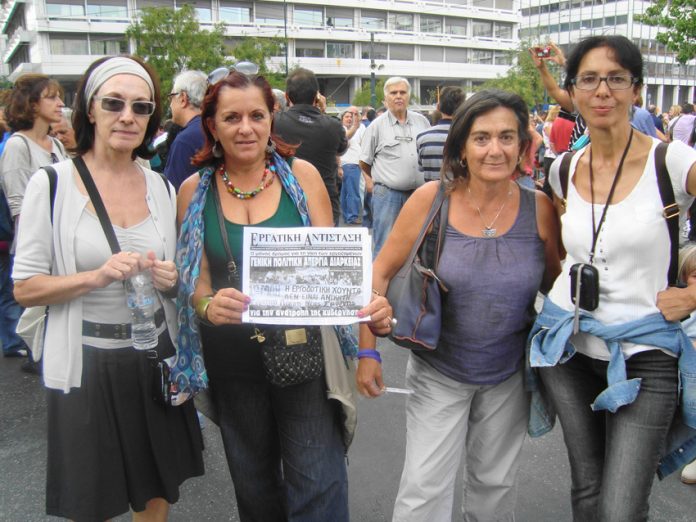 OVER 60,000 workers and youth in angry and militant mood participated on Tuesday afternoon at a rally in front of the Vouli (Greek parliament) in Athens against the visit of German Chancellor Angela Merkel.
The rally was organised by the GSEE (Greek TUC) and ADEDY (public sector trades union federation) as part of a 3-hour Athens-wide stoppage.
Large delegations of trades unions, such as the DEH (State Electricity Board) workers and health and local government workers, organised marches that converged in the large Syntagma square at the Vouli building. The Greek Communist Party (KKE) also organised a 20,000 strong march across the Athens city centre.
According to the Greek Ministry for Public Order, over 7,000 police had been mobilised to protect Merkel.
A large chunk of the city of Athens and the airport were declared by the Athens Chief of Police, who put into use a 1971 edict of the then military junta, as prohibited areas for demonstrations or public meetings of more than five persons.
Merkel met the Greek Head of State Karolos Papoulias who told her that 'the Greek people suffer and its patience has been extinguished.'
At the subsequent joint press conference with the Greek Prime Minister Antonis Samaras, Merkel insisted that Greece 'must complete this course of austerity measures so that things won't get dramatic later'.
She promised help for Greece to secure European funds but said that the next payment of the EC-IMF-ECB bailout fund to Greece won't materialise until the end of November.
That was a blow to Samaras who was expecting much more than a few kind words.
Merkel mentioned local government and health as two areas of collaboration of the two countries that can be achieved through the European Commission's Task Force imposed on Greece which dictates economic policies.
Merkel named the German Deputy Labour Minister Hans Joachim Fuchtel and Task Force's head Horst Reichenbach as the two persons the Greek government must collaborate with.
Local government and health are being literally smashed by the coalition government headed by Samaras.