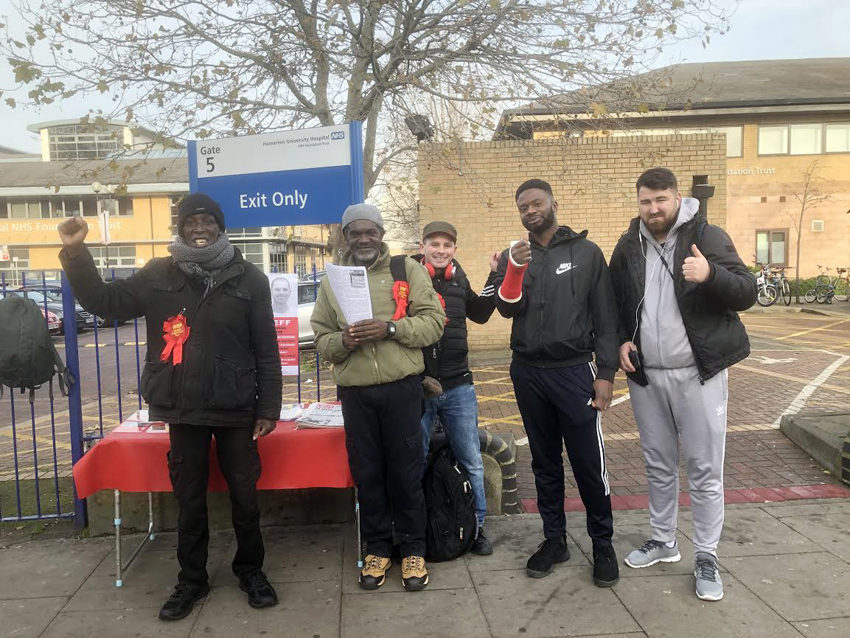 THE VOTE Hassan Zulkifal Workers Revolutionary Party Ealing Southall campaign got great support at Greenford Bus Depot and Hanwell Royal Mail Delivery Office yesterday morning.
At the bus depot, Unite member Mohamed Ali said: 'I was brought up Labour, but having lost trust in all the politicians, I'm voting for Hassan.'
Unite member Shuaili Ghanti said: 'Brexit now, no more delay. Reopen Ealing Hospital maternity unit now. I'll vote for Hassan.'
Unite member Snehal Patel said: 'I've always supported you. Your campaign to save the hospital is great and I'll vote for you too.'
Hassan said: 'Busworkers support us because they have a strong unionised culture. They have experience fighting for their own interests as members of the working class against bosses who constantly want to step up their exploitation.
'They know that the victory of the working class is not something that will be handed down to them but is something that must be struggled and worked for.'
At Hanwell delivery office, Communication Workers Union Rep Julian Pallett said: 'We are disgusted that the High Court ruled our strike illegal last week after a 97% ballot result in favour of action. It's clearly politically motivated. The law is an ass.
'The union stance is that they will be challenging it in the Supreme Court. In the new Royal Mail Chief Executive we're up against someone who has no interest in consultation, only confrontation.'
Hassan Zulkifal said: 'The CWU and the TUC leadership cannot be allowed to take this capitalist state attack lying down. They should call an all-out general strike to support the Royal Mail workers and defend the right to strike.'
• 'The whole concept of 6th Form College is being eradicated and we are here to stop it!' Julie Mukhergee, NEU joint rep at B6 College in Clapton, Hackney, said yesterday on the picket line during their strike.
B6 was among 34 6th Form colleges across the country which were out on strike.
Mukhergee continued: 'A number of 6th Forms have been merged or closed or sucked into the FE (Further Education) system.
'This is our third day of strike action. 34 colleges are out today, another nine colleges have joined the strike.
'The strike is over pay. We are getting less of a pay rise than teachers.
'There has been more than £1.1bn worth of cuts to 6th Form Colleges since 2010.'
Joint NEU Rep Jamie Duff added: 'We are struggling to defend the students. The college is totally shut today, there are no lessons and the students are staying home.
'EMA(Education Maintenance Allowance) has been axed.
'The idea is to build up the strikes and carry on into December.'
Retired NEU member Dave Owen who came down to the picket line to support the strike said: 'Money has been reduced. There are bigger class sizes now, less cash to provide resources necessary.
'In this area, Hackney, especially young people need to have a future. They need qualifications and apprenticeships to get a new start in life.'
After campaigning at the college, the team fighting for Jonty Leff, WRP candidate for Hackney South and Shoreditch, to be elected, went down to Homerton Hospital.
Student Boma Orubibi said: 'The inequality in society is outrageous!
'I live in Hackney and I see loads of luxury apartments going up, new shops for richer people and families relocated out of the borough.
'I had a motorcycle accident and Homerton Hospital helped me out.
'Free health care is a human right and it must be defended.
'I support WRP (Workers Revolutionary Party) candidate Jonty Leff because the party believes everyone has the right to adequate facilities and a decent future.'