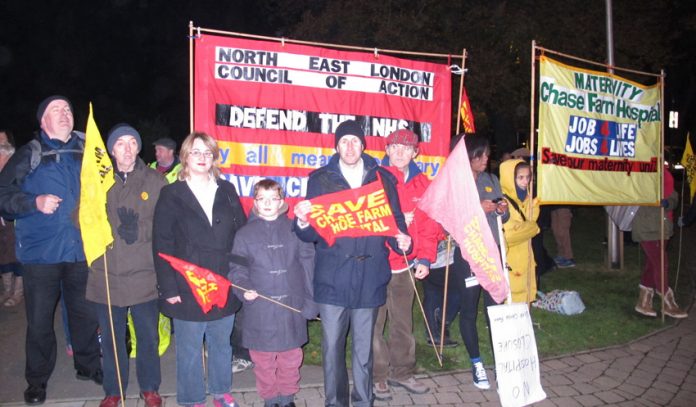 GPs in England will no longer have to offer appointments lasting at least 10 minutes under changes agreed with the government.
It is one of a number of requirements being removed in the latest round of contract negotiations between the government and doctors' leaders.
NHS England says consultations last, on average, for around 12 minutes.
It added this change should mean GPs have greater flexibility over how they organise their appointments.
BMA member Anna Athow told News Line: 'The most pernicious aspect of the new changes to the GP contract is that £160 million pounds of spending is to be taken away from hospital ward care and diverted into incentivising GPs to keep patients out of hospital.
'This is always justified by stating that patients are "inappropriately" being admitted to hospital wards.
'But the fact is, GPs are being heavily leaned on and virtually instructed to prevent elderly patients going to hospital, when possibly the patient might benefit from a hospital stay.
'The fact that so much money is being removed from ward care, means that the government has decided to just remove the option for hospital care from elderly people.
'The role of all doctors is to advocate that the necessary care is given to their patients according to their need.
'Doctors should not be bullied to adhere to budget cutting requirements against their better judgement.
'This new contract puts GPs very much in the position of denying care to elderly patients for financial reasons, and should not have been agreed to by the BMA.
'This has been agreed to by a meeting of the BMA's general practitioner committee.
'Therefore, this change to the GP contract is being used to ensure closure of more geriatric wards with the loss of more hospital beds. It is a killer contract change.'
The government wants general practices to open longer for scheduled care.
Chairman of the Family Doctor Association and Swindon GP, Dr Peter Swinyard, believes that opening general practices for longer is unaffordable in the 'current fiscal climate'.
He says that the recent announcement by Prime Minister David Cameron to run general practices from 8.00am till 8.00pm, seven days a week, has been met with 'considerable consternation in general practice in England' and warns that the present system 'may become unaffordable' within the next decade.
Dr Swinyard says that the number of consultants working in emergency departments has 'risen more in line with the demand than has the number of GPs' and the pressure of increased workload is 'leading to a crisis of morale in general practice'.
He adds that introducing longer hours runs the risk of reduced continuity of personal care in general practices.
Dr Swinyard concludes that honesty is needed about what level of service the NHS should provide.
He says there is evidence that Darzi centres (open 8.00am till 8.00pm, seven days a week) are 'extremely expensive', adding that had the funding spent on them been given back to practices, 'the excellent service demanded by our patients would be nearer to our grasp'.