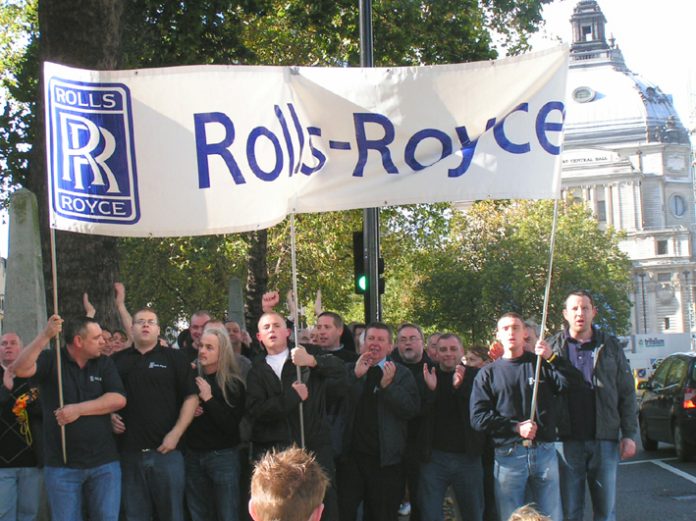 Hundreds of workers took part in the Manufacturing Lobby of Parliament yesterday with Rolls Royce workers marching to the House of Commons chanting 'Gordon Brown, you let us down!'
There were banners from Rolls Royce in Liverpool and Airbus in Bristol, while other workers wore T-shirts saying Keep Cadbury's in Keynsham and Save Remploy.
The mass Lobby of Parliament was called by Unite, the new union made up of the TGWU and Amicus.
Avid Loveridge, Unite NEC member and shop steward from print firm Wyndeham Grange in Brighton said: 'Recently we have been taken over by equity investors, Dransburn who invest in pension funds.
'These venture capitalists have closed half the firms in the group including ones making a profit because it's easier to make people redundant in England than in the rest of Europe.
'The union should be looking at the pension portfolios and investing in firms that are UK friendly and not asset stripping British companies.'
Barry Channing from Airbus in Felton in Bristol said: 'If we don't keep manufacturing in the UK it will have a huge knock on effect to the whole of society, from designers down to the people that cut grass.
'We don't want to see work going abroad.
'They are just using bullying tactics by threatening to take work to Romania.'
James Nash, said: 'I do not agree with any of the political parties because we've been lied to and given untrue facts.
'This is a government without the bottle to call an election. They represent their own individual interests.
'The trade union movement should take these people to task and not back Brown in any way, because they are controlling the country in their own interests and not in ours.'