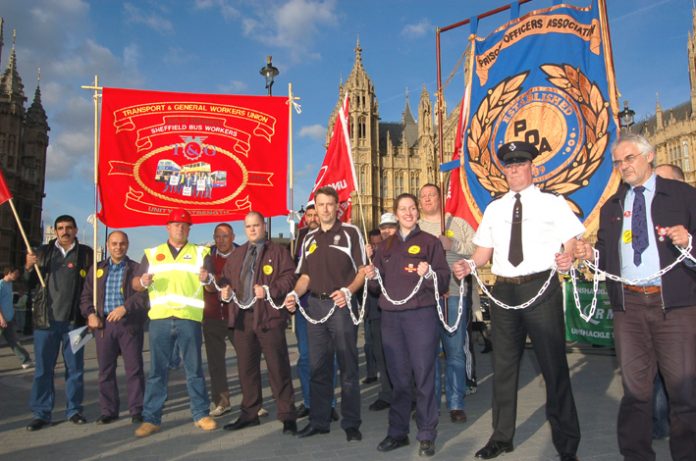 BBC journalists, technicians and production staff and electricians will be balloted for strike action if the BBC proceeds to call for 'voluntary redundancies' today, BECTU general secretary Gerry Morrissey told News Line yesterday.
Speaking after a meeting of the BBC unions representatives yesterday, he added: 'The decision of all three unions was unanimous.
'If the BBC does not withdraw its proposal to call for voluntary redundancies by 12 noon tomorrow, then all the unions will commence a ballot for strike action.
'The BBC action would be premature and in breach of collective agreements.
'Members are very angry, they feel the BBC is riding roughshod over agreements and they don't want to lose their jobs.
'Director general Mark Thompson agreed with us on the principle of retraining and redeployment, but that is meaningless if they start calling for volunteers.'
Referring to Thompson's meeting with the unions earlier, NUJ general secretary Jeremy Dear said: 'Nothing said today reassures us that the BBC is committed to meaningful negotiations over the change.'
He added: 'Unless the BBC reconsiders its position, strike action looks inevitable.'
Morrissey said over 1,000 BECTU members and up to 500 NUJ members face the axe.
Director General Mark Thompson said his six-year plan Delivering Creative Future will see 'a smaller, but fitter, BBC' in the digital age.
Thompson told staff: 'We think we can significantly reduce duplication in news gathering and production without our most important flagships like Today and Newsnight losing their distinctiveness and their character.'
The main changes include: Closing 2,500 job posts over the next six years.
About 700 jobs are promised to be created, resulting in an estimated 1,800 redundancies.
Making ten per cent less original TV programmes by 2012/13.
An integrated newsroom – merging TV, radio, and online.
Selling off BBC Television Centre by 2012/13.
Scrapping proposals for new activities, including plans for four new local radio stations.