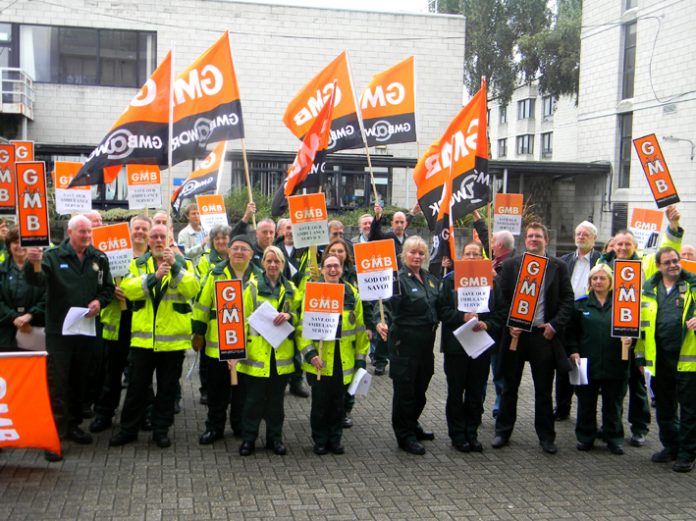 Yesterday morning over 100 ambulance crew turned out to lobby the board of the South London Healthcare NHS Trust to warn them to stop the attempted privatisation of patient transport or face strike action.
The GMB trade union alleges that the board's preferred bidder, Savoy Ventures Ltd, is a company with a history of 'serial insolvency', and refuses to agree to protect the terms and conditions of staff who are transferred to it.
Robert Macey, GMB Regional Officer, and Justin Bowden, GMB National Officer both confirmed: 'We have already balloted and we have a mandate to call strike action. What is happening here is happening all over the country.'
Tony Hall, Shop Steward at Greenwich Patient Transport Services (PTS), told News Line: 'I find it absolutely disgusting that the Trust could hand our contract to Savoy Ventures Ltd – a company who have no medical training, no patient skills or patient care ability, and just don't have any health and safety standards at all.
'They will not be recognising our same terms and conditions as required under the TUPE regulations.
'Each of us stands to lose about £4,000 a year in wages plus our final salary pension which they don't recognise.
'If they don't listen we will be demanding that the GMB authorise the strike action that we have already voted for.'
Keith from Greenwich Ambulance Service said: 'This privatisation is going on everywhere. The best thing would be for the unions to call a general strike to get rid of this Tory government.
'There is no socialist Labour Party any more. All we get is a conservative Labour.'
Steve Davey said: 'You can see that Savoy are trying to provide services on the cheap. You can't provide a quality service for the money that they put in for the tender.'
Steve said that the Savoy tender was for £1.4 million while London Ambulance put in a bid for £3.4 million.
Becky Davey added: 'These cuts are going to hurt a great many people. Firstly the patients but also the crews. There are married couples here like us who would stand to lose a great deal.
Sue Alexander, PTS Driver said: 'Not enough is being done by the unions to defend the working classes. If it was France the whole country would be out. They stick up for themselves.
'I think the union leaders should be calling a general strike to stop these cuts.'
l see page 8