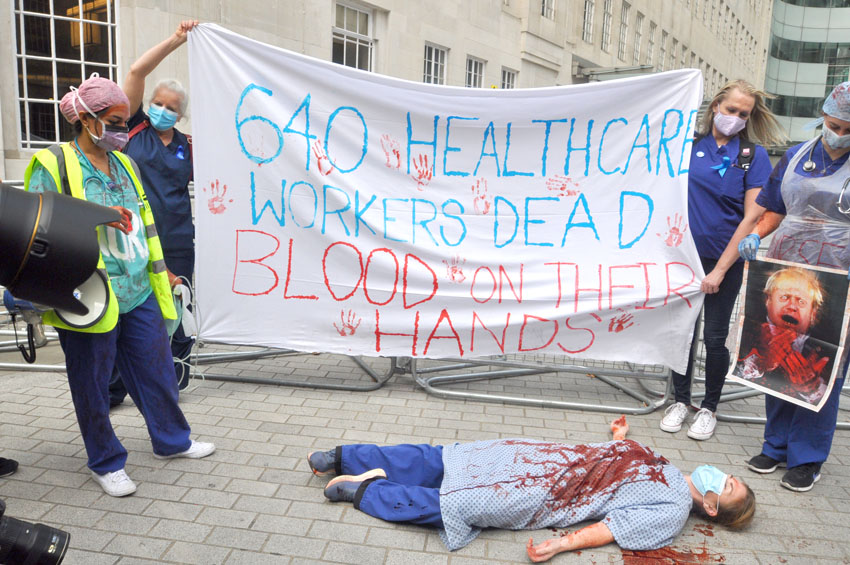 FRONTLINE health and social care workers must be given every opportunity to have the Covid-19 vaccine, BMA council chair Chaand Nagpaul has said.
Dr Nagpaul welcomed the news that the Medicines and Healthcare Products Regulatory Agency had approved the Pfizer/BioNTech vaccine on Wednesday – calling the work an 'incredible achievement of modern science' – and urged the government to ensure healthcare workers at the highest risk from the virus should be given priority.
He added: 'It's hugely important that frontline healthcare and social care workers – at the forefront of fighting this terrible virus – are given every opportunity to get the vaccine.
'In the first phase of the pandemic, significant numbers of healthcare workers became seriously ill with many losing their lives to the virus.
'This led to scores of frontline staff being risk-assessed in terms of their vulnerability to the infection and so the BMA fully supports the Joint Committee on Vaccination and Immunisation (JCVI) recommendation that healthcare workers at highest risk from the virus should be given priority to be vaccinated.
'Those same healthcare workers – many highly experienced in providing vaccinations – will be a crucial aspect of making this roll out a success.
'This is the first of several Covid-19 vaccines to be approved for use but it's also the one that presents the greatest logistical challenges in terms of storage and immunising patients outside a hospital setting.
'The government and NHS England must not underestimate the scale of the challenges this programme presents and we need to make sure staff have the resources and support in place to turn this scientific breakthrough into an operational success.'
The government has ordered 40 million doses of the vaccine which is thought to be 95 per cent effective and rollout is expected to begin in the coming days with the population likely to be covered in phases from those working on the front line in health and care down through the age and risk groups.
Chaand Nagpaul continued: 'We have never tried to deliver a vaccination programme of this size.
'It offers hope that we will finally start to bring the pandemic to an end, but we have never tried to deliver a vaccination programme of this size, and at this speed, ever and there are many practical hurdles to consider and overcome.'
BMA GPs committee chair Richard Vautrey also welcomed the news and said GPs 'share in the optimism of the rest of the nation as a future beyond the pandemic comes more clearly into sight'.
But Dr Vautrey has also called for further information regarding the practicalities of the process.
He said: 'With regard to the Pfizer/BioNTech vaccine specifically, we need clarification and guidance from both NHS England and the government on how exactly practices will be involved in this first phase, given the much-publicised practical restraints around storage and transportation.
'Given these challenges – recognised by the JCVI today – some people may have to wait a little longer for a more stable vaccine to become available, and we'd urge the public to be patient. We don't expect practices to be getting any vaccines for at least another two weeks and we believe the campaign will begin in full force in the New Year.'