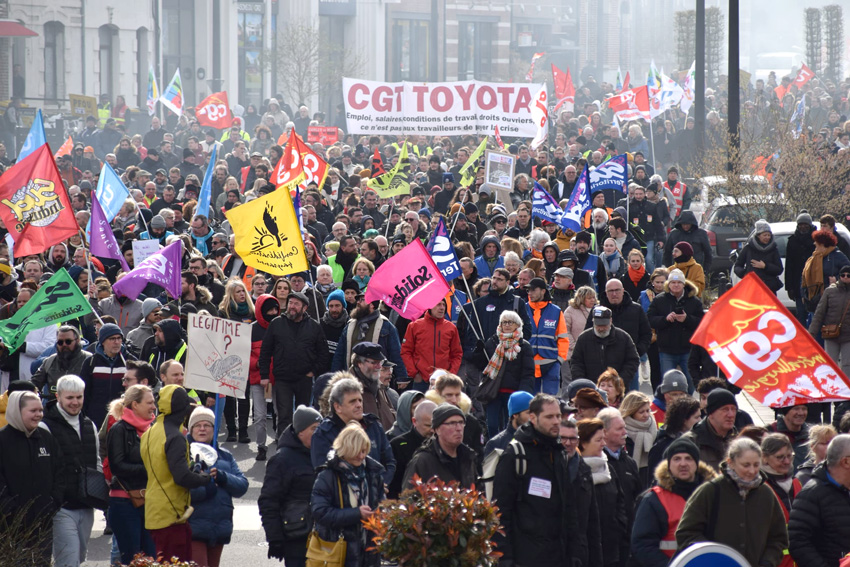 FRENCH protesters downed tools and marched once again in Paris and other cities yesterday.
They have been galvanised by President Emmanuel Macron's decision to ram his deeply unpopular pension reform through parliament without a vote, in what critics have branded a 'denial of democracy'.
More than two months into a bitter battle that has roused the nation, opponents of Macron's plans to raise the retirement age showed no sign of relenting, with the number of protesters on the rise again after dipping in recent weeks.
The rallies marked the ninth day of nationwide strikes and protests, and the first since Macron ordered his prime minister to use special executive powers to bypass parliament, turning an already festering dispute into a political and institutional crisis.
In the French capital, several hundred thousand protesters turned out, setting off from the symbolic protest hub of the Bastille. Many held posters with a montage of Macron dressed in full regalia in the manner of 'Sun King' Louis XIV, accompanied by the slogan 'Méprisant de la République' (contemptuous of the Republic).
'We're fed up with a president who thinks he's Louis XIV, who doesn't listen, who thinks he's the only one to know what's good for this country,' said Michel Doneddu, a 72-year-old pensioner from the Paris suburbs.
He held up a placard that read, 'Jupiter, the people will bring you back down to Earth', a reference to a nickname commonly used by critics of Macron's lofty, arrogant manner.
'We've had our share of useless presidents, but at least in the past they knew when to listen and when to back down,' Doneddu added. 'But Macron, he's on another planet.'
Macron's use of article 49.3 of the French constitution to force his pension reform through parliament has incensed his opponents.
France's Constitutional Council will issue a much-awaited verdict on April 14 on whether or not the government's plans to increase the French retirement age are in line with constitutional rules, it said in a statement on Wednesday.
The plan by President Emmanuel Macron's government to increase the retirement age by two years to 64 has encountered fierce opposition from workers and trade unions.
A woman in northern France is to be put on trial on charges of insulting President Emmanuel Macron after describing him as 'filth' in a Facebook post, a prosecutor said on Wednesday.
The woman risks a fine of 12,000 euros but not prison if convicted at the trial due to be held in June.
She was arrested on Friday and held in custody for questioning after the state's local administrative office filed a complaint over her Facebook post, said the prosecutor in the northern town of Saint Omer, Mehdi Benbouzid.
The complaint focused on a post on her Facebook page made on March 21st: 'This piece of filth is going to address you at 1pm … it's always on television that we see this filth,' she wrote.
She stands accused of 'insulting the president of the republic' and will stand trial on June 20 in Saint Omer, the prosecutor said.
'They want to make an example of me,' the woman told La Voix du Nord regional newspaper which first reported the accusations.
The woman, named by the paper as Valerie, said she was astonished when she answered the knock on the door on Friday morning to find police had come to arrest her.
'I asked them if it was a joke, I had never been arrested,' she said. 'I am not public enemy number one.'
Unions have announced a new day of strikes and protests on April 6.