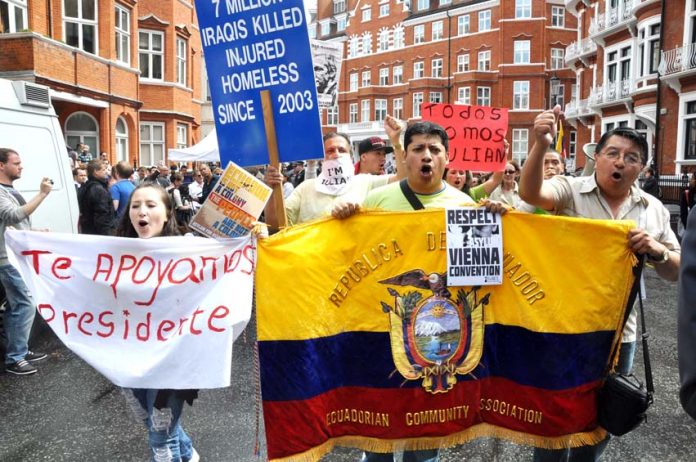 ECUADOR has cut off WikiLeaks founder Julian Assange's internet and stopped all visits after he tweeted about the arrest of Catalan leader Carles Puigdemont. Meanwhile junior UK Foreign Office minister, Alan Duncan launched a vicious attack on Assange in Parliament.
Duncan said: 'It's of great regret that Julian Assange remains in the Ecuador embassy.
'It's about time that this miserable little worm walked out of the embassy and gave himself up to British justice.'
Alan Duncan made his remarks after Assange refused to blame and condemn Russia for the attack in Salisbury on Skripal and his daughter. Assange also tweeted on March 26th about Puigdemont and Catalonia: 'In 1940 the elected president of Catalonia, Lluís Companys, was captured by the Gestapo, at the request of Spain, delivered to them and executed. Today, German police have arrested the elected president of Catalonia, Carles Puigdemont, at the request of Spain, to be extradited.'
The WikiLeaks founder, who is stranded in Ecuador's diplomatic mission, as a result of using this comparison, found himself in a total communication blackout on Wednesday.
Ecuador has been sheltering Assange in its embassy in south west London since 2012. When Assange criticised the German government for its decision to arrest Catalan leader, Carles Puigdemont, the Ecuador Foreign Ministry demanded that Assange delete the tweet, which he refused to do.
He was consequently left incommunicado, having been stripped of internet access and no longer allowed to meet visitors in the embassy. The embassy reportedly installed electronic jammers to block all radio communications on its premises hours after an individual representing Assange's interests was informed of 'strong discomfort and concern that his declarations have caused in Ecuador's government', an email obtained by the Russia Today (RT) TV channel revealed.
Assange was initially staying in London to avoid an extradition order to Sweden. The extradition order has since been dropped, but the British state still say that as soon as he takes one step onto the pavement he will be arrested for 'breaching bail' even though there are no criminal charges against him. Assange believes that if he leaves the embassy he will be arrested and extradited to the US where he could face life imprisonment for exposure of American imperialist policies.
On Monday, Assange used Twitter to question the decision by the UK and more than 20 other countries to blame Russia for the nerve agent attack in Salisbury by expelling Russian diplomats. He tweeted: 'Further, while it is reasonable for Theresa May to view the Russian state as the leading suspect, so far the evidence is circumstantial & the OCPW has not yet made any independent confirmation, permitting the Kremlin to push the view domestically that Russia is persecuted.'
British police ended their permanent guard on the embassy in October 2015 but said they would maintain 'covert tactics' to arrest Assange if he left. Fashion designer Vivienne Westwood said on Wednesday: 'Assange is a war hero, he exposed American war crimes.'
She said: 'Julian Assange is one of the greatest heroes of the world, we are very concerned now that he can't have visitors. It's really important that he's got access to the world by all the exposures he has managed to do. He is my friend and he is brilliant,' she said.
She is not the only celebrity who supports Assange. His vast array of supporters include: Pop star Lady Gaga, US documentary maker Michael Moore, actor and ex-footballer Eric Cantona and actress Pamela Anderson. Assange has widespread support in the UK and it is expected that many of his supporters will gather outside the embassy and show their support for him and determination to prevent him being arrested by the British state.